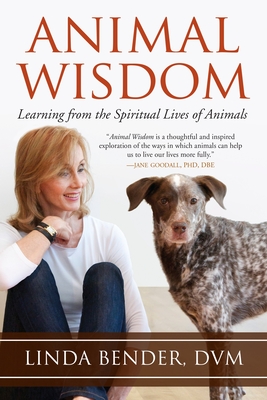 Animal Wisdom (Paperback)
Learning from the Spiritual Lives of Animals (Sacred Activism #6)
North Atlantic Books, 9781583947739, 200pp.
Publication Date: June 10, 2014
* Individual store prices may vary.
Description
How is it that pets are able to travel thousands of miles through unknown territory to reunite with their beloved humans? How can dogs detect cancer with up to a 98 percent accuracy rate, and foresee epileptic or diabetic seizures in their owners? How do animals seem to know an earthquake is coming long before the world's best seismologists?
In Animal Wisdom, veterinarian and animal advocate Linda Bender offers a wealth of amazing stories and research-based evidence indicating animals have deeply perceptive—even extrasensory—abilities. She shows us that animals are extremely perceptive, intuitive, and psychic and provides step-by-step practices for honing your natural ability to communicate with them, so that you too can learn to understand their urgent messages about peace, happiness, and the future of the planet. Animal Wisdom is for animal lovers and anyone who seeks a deeper, more spiritual connection to these beautiful creatures.

From the table of contents:

Foreword by Linda Tucker

PART I: The Fabric of Creation
Chapter 1: The Ecology of Paradise
Chapter 2: How Can We Know What Animals Are Thinking and Feeling?

PART II: What Animals Want Us to Know
Chapter 3: You Are Loved
Chapter 4: You Are Already Living in Paradise
Chapter 5: You Don't Have to Figure Everything Out
Chapter 6: Dying Isn't Bad

PART III: The Connection of All Creatures
Chapter 7: How to Connect Telepathically with Animals: A Practical Guide
Chapter 8: The Animals Speak for Themselves
Chapter 9: Heeding the Cries of the Nonhuman World

Afterword by Andrew Harvey
About the Author
During the 14 years that LINDA BENDER spent living in Europe, Asia, Africa, and the Middle East, her veterinary work included the rescue, rehabilitation, and protection of wildlife. Her interest in spirituality and healing led her to found the Mind the Gap Wellness Center as well as a pet-therapy program. She is a certified practitioner of Energy for Life and is a cofounder of the nonprofit organization From the Heart. The author lives in Mt. Pleasant, South Carolina.
Praise For Animal Wisdom: Learning from the Spiritual Lives of Animals (Sacred Activism #6)…
"If anyone's in a position to preach-in the best sense of that word- about animals, it's this impassioned, vegetarian healer and activist whose globe-spanning career spent amid endangered and domesticated species spurs viewpoints that many open-minded animal lovers will find not just plausible but validating and down right electrifying."
—Anneli Rufus, Spirituality & Health
"Animal Wisdom is a thoughtful and inspired exploration of the ways in which animals, if we will but watch them and listen to them, can help us to live our lives more fully. Linda Bender has a firm grounding in science, yet she has learned, as I have, of the benefit we can get from close relationships with animals. Not only can they calm and relax us physically and emotionally, they can also enrich us spiritually. Thank you Linda for writing this book."
—Jane Goodall, PhD, DBE, founder, the Jane Goodall Institute, and UN Messenger of Peace
"
Animal Wisdom
deepens our understanding of the sacred relationship between humans and animals."—Deepak Chopra, MD, author of
The Seven Spiritual Laws of Success
"Linda Bender opens up a spiritual dimension of animals that many people feel intuitively but find hard to express. She is thoughtful, well-informed, and draws on a lifetime of experience, expressing her insights clearly and accessibly. This beautifully written book will inspire animal lovers and enrich their experience of animals' lives—and their own."
—Rupert Sheldrake, PhD, author of Dogs That Know When Their Owners Are Coming Home

"This is an excellent book—it is substantive, a good read and a delightful one. Join a bigger world—include the animals in all our decision-making. Read this book. The animals are grateful for this book; you will be too."
—Matthew Fox, coauthor of Occupy Spirituality

"A compelling body of evidence suggests that human minds can connect with one another across space and time, but also with other sentient creatures as well. Dr. Linda Bender takes us inside these primordial connections and shows how they work toward our welfare and survival."    
—Larry Dossey, MD, author of One Mind: How Our Individual Mind Is Part of a Greater Consciousness and Why it Matters

 "There is one natural law for all of us to live by, and that is caring and sharing and being responsible for the wellbeing of all other living things. In Animal Wisdom, Linda Bender gives us all a chance to go back to the way that will maintain everything we have. She helps us remember what the animals have not forgotten, that we are all connected, and that no one being is less than or greater than another. Bender explains what my people have always known, that having a good relationship with all life is the key to physical, mental, social, and spiritual harmony. This is the way it was meant to be. This is the key to our survival."
—Tjilpi Bob Randall, Yankunytjatjara elder, author of Songman: The Story of an Aboriginal Elder of Uluru

"Stories of pets that find their way to their humans hundreds of miles distant, or of therapy animals that calm psychiatric patients, illustrate [Bender's] theme that animals have souls (the Latin anima meaning "soul," is the root of the word animal) and that our souls and theirs can communicate."
—Booklist

"'Every animal knows more than you do.' This Native American proverb resonates soundly throughout Animal Wisdom, veterinarian and animal activist Linda Bender's marvelous look at what animals teach us and how they share wisdom with the world."
—Spirt of Change Magazine 

"Bender believes the destiny of humankind is inextricably linked with all species and depends on our ability to 'renegotiate our relationship with Mother Nature.' Animal Wisdom is a fine tool for this renegotiation."
—Book Club Classics
 
"Bender offers a wealth of amazing stories and research-based evidence indicating that animals have deeply perceptive—even extrasensory—abilities... This is a book for animal lovers and anyone who seeks a deeper spiritual connection to these beautiful creatures."
—Arizona Networking News