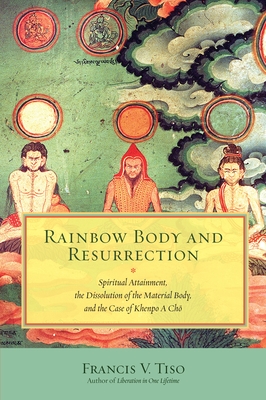 Rainbow Body and Resurrection
Spiritual Attainment, the Dissolution of the Material Body, and the Case of Khenpo A Chö
Paperback

* Individual store prices may vary.
Description
Francis V. Tiso, a noted authority on the rainbow body, explores this manifestation of spiritual realization in a wide-ranging and deeply informed study of the transformation of the material body into a body of light. Seeking evidence on the boundary between physical science and deep spirituality that might elucidate the resurrection of Jesus, he investigates the case of Khenpo A Chö, a Buddhist monk who died in eastern Tibet in 1999. Rainbow Body and Resurrection chronicles the dissolution of Khenpo's material body within a week of his death, including eye-witness interviews. Tiso describes the spiritual practices that give rise to the rainbow body and traces their history deep into the encounter of religions in medieval Central Asia. His erudite exploration of the Tibetan phenomenon raises the fascinating question of whether there is a connection between the rainbow body and the dying and rising of Jesus.

Drawing on a wealth of recent research, Tiso expands his discussion to include the contemplative geography out of which Dzogchen arose some time in the eighth century along the great Silk Road across Central Asia. The result is an illuminating consideration of previously unimagined relationships between spiritual practices and beliefs in Central Asia.
Praise For Rainbow Body and Resurrection: Spiritual Attainment, the Dissolution of the Material Body, and the Case of Khenpo A Chö…
"A sensitive, beautifully written book that brings the contemporary Westerner into a close encounter with the heart of Tibetan Buddhism, while providing a deep and productive reflection on the relationship between Tibetan spirituality and the author's own Christian religious background. This book deserves to be read widely, not only by Tibetan and Buddhist scholars, but by all those interested in the meaning and relevance of religion within human society." —Geoffrey Samuel, director, Body, Health and Religion (BAHAR) Research Group, professor emeritus, Cardiff University


"Francis Tiso has written an astonishing work of broad and deep scholarship that blends a personal spiritual journey, erudition, and on-the-ground interviews with witnesses of the rainbow body to reveal a conversation that began long ago in Central Asia about postmortem transformations of the body in a variety of religious traditions. He has delved deeply into esoteric texts and carefully reviewed recent scholarship to present a detailed history and explanation of practices leading to the attainment of the rainbow body as well as the doctrine of the resurrection in Christianity. General readers and scholars alike will find much of interest in [this book]." —Serinity Young, PhD, professor, Queens College, research associate, American Museum of Natural History, author of Body & Spirit: Tibetan Medical Paintings
 
 
"This study by Rev. Francis V. Tiso, PhD, combines solid scholarship and profound spiritual insight. Based on many years of study of the original Tibetan texts and fieldwork in Tibet, a coherent presentation of the phenomenon of the rainbow body is presented to Western readers for the first time, explored in the multireligious historical context of Central Asia and opening vistas on inter-faith dialogue and the meaning of death, bodily dissolution, and resurrection." —Per Kværne, professor emeritus, University of Oslo, member, Norwegian Academy of Science and Letters, Oslo, and Accademia Ambrosiana, Milano
 
 
"The right medicine for people who forgot how they used to wonder about the afterlife. Stories about this and other boundary crossings are found here and told well. Many will learn to welcome the author's discomforting approach to normalizing the paranormal, and his bold yet entertainable historical claims linking Tibetan Dzogchen with Central Asian Christianity." —Dan Martin, Hebrew University of Jerusalem


"I have read with great pleasure Tiso's magnificent work and have truly appreciated his reading and interpretation of the Chinese text, Zhixuan anle jing (The Book of Profound Peace and Joy). Here, finally, I am seeing a theological study of the text, which makes me very happy. I greatly appreciate your contextualization of this text in its grounding in the theology and spirituality of the Syriac Church of the East. I would like to thank Tiso very much for having pioneered this fascinating and difficult work of interpretation." —Matteo Nicolini-Zani, monk of Bose



"Rainbow Body and Resurrection is a work of scholarship, dedication and vision. In comparing the spiritual practices of the early Tibetan Bon & Buddhist dzogchen teachings and that of Syrian Christianity, Father Tiso explores the possibility that both traditions mutually benefitted from their encounters along the Silk Route in the 8th century especially with reference to the dzogchen attainment of the rainbow body and the Christian doctrine of the resurrection. There is much to be learned from this erudite yet intriguing research in which the author elucidates both the principal dzogchen teachings and some mysteries of the early Byzantine Church. A thought-provoking read!" —Jetsunma Tenzin Palmo
 

 
Praise for Liberation in One Lifetime

"Francis Tiso in this book fulfills an urgent need in Tibetology that has been so long overlooked because gTsang Smyon Heruka's version of Milarepa's teaching and biography, though composed several centuries after Milarepa's life, has been almost universally received without question. Fr. Tiso, after doing much research in Tibet and Nepal, supplies us his translations of biographical material—from oral traditions and from biographies that much precede Heruka's—and accompanies them with very helpful explanations of the pertaining Kagyu spirituality." —Robert Magliola, PhD, retired professor, National Taiwan University and Assumption University (Thailand)
North Atlantic Books, 9781583947951, 408pp.
Publication Date: January 26, 2016
About the Author
Father Francis V. Tiso holds an AB in Medieval Studies from Cornell University, a Master of Divinity degree from Harvard University, and a doctorate from Columbia University and Union Theological Seminary where his specialization was Buddhist studies. He also has a degree in Oriental Languages and Cultures from the Istituto Universitario Orientale in Naples. He was Associate Director of the Secretariat for Ecumenical and Interreligious Affairs of the U.S. Conference of Catholic Bishops from 2004 to 2009, where he served as liaison to Islam, Hinduism, Buddhism, the Sikhs, and Traditional religions as well as the Reformed confessions. He is the author of Liberation in One Lifetime (North Atlantic Books, 2014), which includes his translations of several early biographies of the Tibetan yogi and poet, Milarepa.