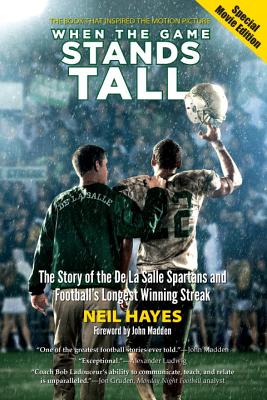 When the Game Stands Tall, Special Movie Edition
The Story of the De La Salle Spartans and Football's Longest Winning Streak
Paperback

* Individual store prices may vary.
Other Editions of This Title:
MP3 CD (7/29/2014)
Compact Disc (7/29/2014)
Description
Revised and updated edition of the book to accompany the major motion picture directed by Thomas Carter and starring Jim Caviezel, Alexander Ludwig, Laura Dern, and Clancy Brown.

This insider's account of the greatest winning streak in sports history brings to life the tragedies, triumphs, and unforgettable characters that inspired the major motion picture. Neil Hayes takes readers behind the scenes at De La Salle High School, where coaching legend Bob Ladouceur led his football team to a historic 13-year run of consecutive wins. A coming-of-age saga as well as an exciting sports story, When the Game Stands Tall provides a deft portrait of the enigmatic and visionary coach who instills in his players a discipline, commitment, and dedication to doing one's best that endure well beyond high school. This latest revised edition takes readers onto the film set for an introduction to the movie-making process, and includes a full-color insert of scenes from the movie, an afterword updating storylines of many of the memorable characters, and details of Ladouceur's final year as head coach.
 
As the story opens, the 2002 team, guardians of The Streak, is shaping up to be the most vulnerable in years. How the coaches and the players pull together throughout a difficult and challenging season to ultimately triumph is the thread of the book, with alternating chapters providing historical background on the school, past teams, stand-out players, and the dedicated coaching staff.
 
Known and respected throughout the ranks of American football, the quiet and unassuming Ladouceur is among this country's all-time coaching greats, a man who has helped to define excellence in sports and mentorship. The book affords an inside look at the training techniques, off-season conditioning programs, scouting habits, and practice plans that produced such an outstanding team. It also introduces a cast of unforgettable characters such as Dan Shaughnessy of Salesian HS, "a fierce competitor who stormed up and down the sideline and swore more than a Catholic school coach should"; Brother Laurence, a much-loved teacher at De La Salle; Coach Eidson, a.k.a. "Cobra," and others. The weaving in of these characters illuminates the nature of the competition and says much about the spirit of De La Salle and the culture Lad has created.
Praise For When the Game Stands Tall, Special Movie Edition: The Story of the De La Salle Spartans and Football's Longest Winning Streak…
"Some guys are just coaches. Bob is one of those guys. He's like John Wooden, Joe Torre, or Bill Walsh. They can coach any sport at any level."
—John Madden, broadcaster and Hall of Fame coach
 
"Neil Hayes has given us a riveting chronicle of the greatest high school football program in history. Emotional, inspiring, dramatic, and action-packed."
—Thomas Carter, director of When The Game Stands Tall
 
"Exceptional. A story about brotherhood and the endless fight to achieve greatness in all aspects of life."
—Alexander Ludwig
 
"Coach Bob Ladouceur's ability to communicate, teach, relate is unparalleled. He strikes a nerve with me every time I hear him speak."
—Jon Gruden, Monday Night Football analyst and former coach of the Oakland Raiders and Tampa Bay Buccaneers
 
"A timeless and universal story about character, hard work, and love."
—Steve Bersch, President, Sony Pictures Worldwide Acquisitions 
 
"Neil Hayes beautifully captures the essence of Bob Ladouceur and his style of coaching ... As a parent, I learned more from this than any other book, especially in the areas of listening and compassion."
—Laura Dern
 
"I've never seen a better coached team at any level. I watch De La Salle play and I can't believe it's a high school football game. Bob is as fine a coach as the game has ever seen."
—Bill Walsh, Hall of Famer and former coach of the San Francisco 49ers
 
"Winning was merely a byproduct of Bob Ladouceur's teachings and philosophy, and his team won more games in a row than any other team, in any sport...ever. Clearly Bob has something to teach us all."
—Michael Chiklis
 
"Human vulnerability gets equal time with athletic invincibility throughout Hayes's book."
—San Francisco Chronicle
 
"This book will be extremely useful to anybody who coaches young men or women. Bob's an amazing man. De La Salle is an amazing program. A story we need to read."
—Tony La Russa, former manager of the Chicago White Sox, Oakland Athletics, and St. Louis Cardinals
 
"A road map for developing great teams and great young men. A must read for any coach or parent who wants to help kids reach their true potential."—David Zelon, producer of When the Game Stands Tall
 
"Remarkable."
—Pro Football Weekly
 
"De La Salle is the ultimate high school football program in this country, there's no doubt about that. It's unbelievable how they keep winning."
—Steve Mariucci, NFL network analyst and former coach of the Detroit Lions and San Francisco 49ers
North Atlantic Books, 9781583948057, 416pp.
Publication Date: July 29, 2014
About the Author
NEIL HAYES was a sportswriter at the Contra Costa Times in Walnut Creek, California, and the Chicago Sun-Times during a 26-year newspaper career. He wrote the script for the ESPN documentary 151: The Greatest Streak, which was inspired by this book. He was also part of the creative team and an on-set consultant during the filming of the major motion picture based on this book.
or
Not Currently Available for Direct Purchase