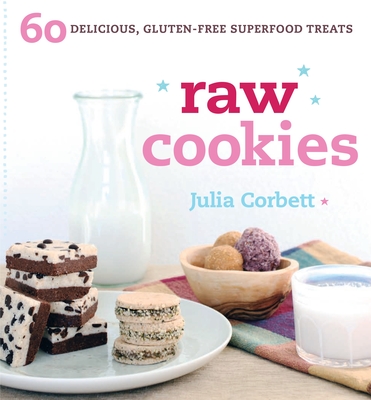 Raw Cookies (Paperback)
60 Delicious, Gluten-Free Superfood Treats
North Atlantic Books, 9781583948217, 200pp.
Publication Date: October 7, 2014
* Individual store prices may vary.
Description
Raw Cookies presents sixty recipes for tasty, superfood-packed raw cookies—ideal for raw foodists, those on a gluten-free diet, and anyone wanting to follow a more health-conscious lifestyle. Using a base of nuts and fruits and incorporating superfoods and adaptogenic herbs such as chaga, chia seeds, and goji berries, these treats are perfect for those wanting to sneak some healthy foods into their (or their family's) diet. Corbett skillfully pairs flavors in order to create unique, yet familiar combinations; her popular Lucuma Cookie Bites, for example, take advantage of the maple-like flavor of lucuma (a South American fruit) to create a raw treat that tastes remarkably like maple shortbread—but also packs a powerful punch of niacin, iron, and beta carotene! Recipes are grouped into categories by base ingredient; in each section, Corbett provides a base recipe readers can use to improvise and create their own favorite superfood combinations. Beautiful full-color photographs accompany each easy-to-follow recipe, which require little prep work and no dehydrator or other specialty equipment. Eating healthy has never been so delicious!
 
Table of Contents
 
Introduction - Tools and Ingredients
Section 1 - Coconut-Based Cookies
Section 2 - Cacao-Based Cookies
Section 3 - Nut-Based Cookies
Section 4 - Seed-Based Cookies
Section 5 - Raw Butter Cookies
Section 6 - Fruit-Based Cookies
Section 7 - Frostings and Presentation
Resources
 

About the Author
Julia Corbett is a superfood dessert chef and owner of Diviana Alchemy, a raw food dessert company that she developed in 2009. Corbett currently teaches raw food workshops on the West Coast and Canada. Her website is www.divianaalchemy.com.
Praise For Raw Cookies: 60 Delicious, Gluten-Free Superfood Treats…
"Julia Corbett's Raw Cookies delivers essential superfood alchemical knowledge. The recipes within these pages cover all the basics and all the superfoods—cacao, chaga mushroom, camu camu berry, coconut, and many, many more. Raw Cookies is a brilliant addition to your health and healing menu and library."
—David "Avocado" Wolfe, author of Superfoods and Longevity Now
 
"The talented dessert chef Julia Corbett is in a league of her own. Her innate ability to create edible art can be seen in all her creations. From cookies to pies, her recipes merge wholesome ingredients with nutrient-rich superfoods and fill the palate with joy."
—Frank Giglio, chef, contributor to Clean Eats: Over 200 Delicious Recipes to Reset Your Body's Natural Balance and Discover What It Means to Be Truly Healthy

"Decadent and delicious! Julia's new book demonstrates that you can have your cake and eat it too. Her mouthwatering creations celebrate the beauty of real food that will be enjoyed by the whole family."
—Nadine Artemis, creator of Living Libations and author of Holistic Dental Care: The Complete Guide to Healthy Teeth and Gums