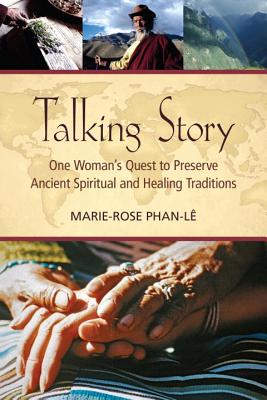 Talking Story
One Woman's Quest to Preserve Ancient Spiritual and Healing Traditions
Paperback

* Individual store prices may vary.
Description
Winner of the 2016 Nautilus Award (Gold Medal – Multicultural/Indigenous) and 2016 Bookvana Award (Multicultural/Non-Fiction) 

A fascinating adventure into the world of healing, shamanism, plant medicine, and divination, Talking Story documents author Marie-Rose Phan-Lê's worldwide journey to find healing and truth from authentic mystics and shamans, while recording their disappearing traditions and discovering her own gift as a healer. Facing a crisis of faith after a profound betrayal by her New Age spiritual teacher, Phan-Lê is set on a path toward the exploration of the Old World. Learning that many indigenous cultures were on the verge of losing their medicinal plants, healing traditions, and spiritual knowledge as a result of habitat destruction, cultural assimilation, and globalization, she travels the globe, meeting with healers and shamans and documenting their practices.

Describing each exciting leg of her journey, Phan-Lê embarks on a life-changing odyssey that takes her to remote corners of the globe including Eastern Peru, Hawaii, Nepal, India, Vietnam, and China. In the midst of her exploration, she begins to connect with her own healing roots, following in the footsteps of her aunt who in Vietnam had been a healer. Once back in the U.S., Phan-Lê's spiritual development continues and she decides to use media as medicine and to be a medium for healing. This book is part of a greater cross-platform of spiritual media that includes Phan-Lê's accompanying award-winning feature-length documentary film Talking Story and her nonprofit organization Healing Planet Project that is dedicated to the preservation and presentation of healing and spiritual traditions through media.
Praise For Talking Story: One Woman's Quest to Preserve Ancient Spiritual and Healing Traditions…
"Nothing is more important for human survival than the preservation of shamanic wisdom and our turning to it for radical healing and radical inspiration. This brave, brilliantly written and exhilarating book by a gifted spiritual pioneer will show you why."
—Andrew Harvey, author of The Hope: A Guide to Sacred Activism and Radical Passion
 
"Marie-Rose Phan-Lê is a brilliant storyteller. Talking Story is a powerful book infused with beautiful transmissions of knowledge she received from healers around the world. It is touching how these healers trusted Marie-Rose so she could share with us what it means to be a shaman, medium, and healer."
—Sandra Ingerman, MA, author of Soul Retrieval and Medicine for the Earth 
 
"Many dismiss traditional healing as being unscientific or superstitious, while others overly romanticize these healing modalities dismissing much that modern medicine has to offer. The value of Marie-Rose Phan-Lê's perspective is that her feet are planted in both the modern and traditional worldviews. Talking Story is a wonderful bridge that spans across many cultures presenting an expanded view of healing and wellbeing."
—Phil Borges, documentary photographer/filmmaker of Enduring Spirit, Tibet: Culture On The Edge and CRAZYWISE
 
"Marie-Rose Phan-Lê is a gifted writer and storyteller with inimitable style. In Talking Story she brings to life ancient cultures, traditional wisdom, and the healing arts solely to bring awareness in the hearts of all. She shows that beyond the threshold of analytical sciences is a world waiting to be explored and experienced, that we can immensely benefit from. I am sure this book will enrich many a soul seeking truth beyond the veil."
—Baba Shuddhaanandaa Brahmachari, author of Making Your Mind Your Best
 
"This beautifully written, magical book is an engaging, honest and often funny recounting of the author's epic journey to document spiritual healing traditions that are in danger of dying out of memory. The story is also an intimate one as author Marie-Rose reluctantly chooses to face her own fears and thus discovers the heart of what it truly means to be a healer, then and now."
 —Robin Rose Bennett, herbalist, author of The Gift of Healing Herbs and Healing Magic: A Green Witch Guidebook to Conscious Living

"Talking Story is the extraordinary journey of an unwitting heroine, whose adventure is a testament that the greatest exploration we will ever make is traversing our inner landscape. Such an expedition requires unflinching surrender and a courageous heart. Marie-Rose bravely and fiercely exemplifies both."
­—Dr. Elizabeth Kapu'uwailani Lindsey, National Geographic Explorer and award-winning filmmaker of Then There Were None

"Phan-Lê's prose is measured, concise, and unfussy, and she writes introspective and perceptible insights about connecting the experiences of her extraordinary journey to her ordinary life."
—Foreword Reviews
North Atlantic Books, 9781583948286, 232pp.
Publication Date: December 2, 2014
About the Author
MARIE-ROSE PHAN-LÊ is the founder and president of Healing Planet Project, a nonprofit dedicated to the preservation and presentation of healing and spiritual traditions through media. She is the writer, director, and producer of the award-winning documentary film Talking Story, the companion to the book.
or
Not Currently Available for Direct Purchase