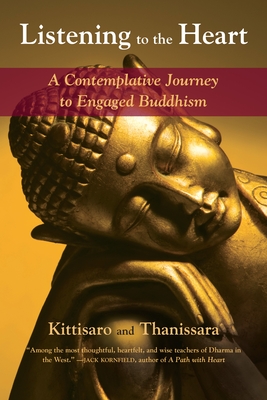 Listening to the Heart
A Contemplative Journey to Engaged Buddhism
Paperback

* Individual store prices may vary.
Description
A husband and wife share stories of struggle and triumph along the path of the Buddha, distilling his most essential teachings in this guide that is "luminous in clarity and depth" (Tara Brach, author of Radical Acceptance)

Husband and wife Kittisaro and Thanissara take turns co-authoring chapters in this deeply personal dharma book exploring the inner practice of meditation in support of awakening. Within the context of the lives of the authors, both monastics in their youth, awakening unfolds as a multifaceted process following the archetypal journey of the hero(ine). Traveling from innocence to disillusionment through the fields of trials and despair that lead to maturity, and ultimately to inspiration and a blessed life, Listening to the Heart tells the story of two unconventional individuals who have together embraced spirituality as the keystone of their lives.

At the heart of the book, through teachings on the nondual nature of reality, we enter the "intimacy with all things" as revealed in core Buddhist texts. Without ending at the goal of personal freedom, Thanissara and Kittisaro encourage us to go beyond the experience of inner peace to embodying wisdom in acts of service within the world. With a realistic appraisal of our current global crisis in which sustainability is threatened by catastrophic climate change, the authors encourage a preparedness that enables a mindful balance of equanimity and passionate engagement whatever the outcome of our global evolutionary journey.

The guiding refuge for this journey is the Buddha, the historical teacher and—most profoundly—that immediate and direct pure awareness, which we all can access. The book also draws on teachings and stories of Buddhist masters who are fearless, funny, and challenging. Eventually, we are led into the Mary-like presence of the goddess of mercy, Kuan Yin who, as a great archetype within Buddhist cosmology, reveals the deepest mystery of our own hearts and our capacity for merciful and compassionate response. As the inner process of awakening unfolds, it transforms seekers and their lives, as modeled by the authors. It both heals the personal self in its journey through its wounds and shadows, and yet at the same time dissolves identification with the self. The book then ends by returning to the simplicity of the authors' primary teacher, Ajahn Chah, with his encouragement to "Be the Dharma."
Praise For Listening to the Heart: A Contemplative Journey to Engaged Buddhism…
"Listening to the Heart takes us on a liberating journey. Kittisaro and Thanissara inspire us with their personal stories of struggle and insight and share their deeply lived understanding of the Buddha's teaching. A beautiful book."
—Joseph Goldstein, author of Mindfulness

"Genuine and insightful, Listening to the Heart is both a memoir and a clear guide to authentic practice. Kittisaro and Thanissara unfold the layers of their experience to share their understanding, from deep inner processes to vital social and relational aspects of living a good life."
—Sharon Salzberg, author of Lovingkindness and Real Happiness

"From Oxford to Thailand to South Africa, from monastery to frontline work in the crying heart of Zulu country, Thanissara and Kittisaro share their amazing journey. Written with honesty, courage, and deep wisdom, Listening to the Heart shows how to free the mind and open the heart. Even more, the deep caring and love that permeate the pages inspire the reader to want to make a difference in the world—and the book provides the map to do it. Highly recommended."
—James Baraz, cofounder of Spirit Rock Meditation Center and coauthor of Awakening Joy

"This is a wonderful and profound book, deeply researched, written with illuminated elegance; it challenges us all both to deepen our sacred practice and to act for compassion in the world."
—Andrew Harvey, founder of the Institute for Sacred Activism and author of The Hope

"This book is luminous in clarity and depth. Let these teachings turn you toward the jewel of your own awakening heart."
—Tara Brach, PhD, author of Radical Acceptance and True Refuge

"True spirituality is like a diamond with many facets: it has the facets of love, compassion, wisdom, courage, responsibility, devotion, and ethics. Thanissara and Kittisaro have done a superb job illuminating all of them."
—Anam Thubten, author of The Magic of Awareness, and founder of the Dharmata Foundation

"Thanissara and Kittisaro are the embodiment of Buddhist wisdom. Their teachings are clear, simple, elegant, and profound. They have a way of cutting through jargon and reaching to truth without resorting to dogma. We are blessed to have two such teachers among us."
—Satish Kumar, editor in chief of  Resurgence & Ecologist magazine

"I'm not sure there is anyone who can strip away our naive illusions about the spiritual life as deftly and elegantly as Thanissara and Kittisaro. As we witness their sacred pilgrimage unfolding, we are awakened to the timeless noble truths of our precious human condition and set free."
—Sharda Rogell, teacher at Spirit Rock Meditation Center and author of Pressing Out Pure Honey
North Atlantic Books, 9781583948392, 296pp.
Publication Date: November 4, 2014
About the Author
Married couple Kittisaro and Thanissara are the founders of Dharmagiri Hermitage in South Africa, from where they support several HIV/AIDS Outreach Programs and help guide and fundraise for Kulungile Care Center for orphaned and vulnerable children and teenagers. They have taught meditation internationally in Europe, the U.S., Canada, South Africa, and Israel for over 25 years.

Kittisaro (Harry Randolph Weinberg) grew up in Chattanooga, Tennessee, where he was valedictorian at Baylor School and winner of the National Prep Tournament before graduating Phi Beta Kappa from Princeton and becoming a Rhodes Scholar at Oxford. In 1976, he ordained with Ajahn Chah in Thailand and during his fifteen years as a Buddhist monk he helped found Chithurst Monastery and Devon Vihara in the U.K., teaching extensively throughout this time.

Thanissara grew up in an extended Anglo-Irish family in London, attending Southampton College of Art and traveling extensively in Asia in the 1970s. Also inspired by Ajahn Chah, she spent 12 years as a Buddhist nun in Thailand. She holds an MA in Mindfulness-Based Psychotherapy Practice from Middlesex University and the Karuna Institute in the U.K. and cofacilitates the Community Dharma Leader Program at Spirit Rock Meditation Center in California.
or
Not Currently Available for Direct Purchase