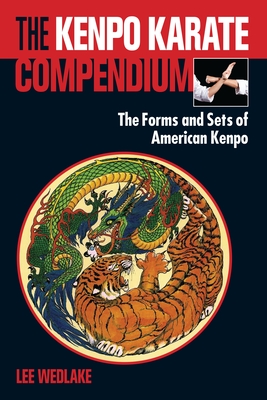 The Kenpo Karate Compendium (Paperback)
The Forms and Sets of American Kenpo
Blue Snake Books, 9781583948514, 384pp.
Publication Date: January 13, 2015
* Individual store prices may vary.
Description
The Kenpo Karate Compendium details the forms of American Kenpo as prescribed by the "Father of American Karate," Ed Parker. Author Lee Wedlake, 9th degree black belt, world-class instructor and competitor, brings his acclaimed training and teaching experience to bear in this unique resource for all who practice and teach American Kenpo and its offshoot systems. The American Kenpo system is taught worldwide and this reference will become a standard for thousands of Kenpo practitioners in various lineages. It will also serve as a stimulus for all martial artists by providing a sense of the logical framework of American Kenpo. Having collected the general rules of motion and the numerous fine points of Kenpo, the book is a standout in the genre.
 
• COMPREHENSIVE TREATMENT of the Kenpo Karate system provides a progression of teaching curricula for beginning, intermediate, and advanced students and instructors
• COVERS history, fundamentals, forms, solo and partner practice, and advanced technical skills
• INCLUDES over 450 black and white photos detailing forms and techniques
• SOMETHING FOR ALL STUDENTS, whether pursuing martial arts for health, competition, self-defense, or personal improvement
 
Table of Contents
Introduction
Preface
Chapter 1: What the Beginner and the Black Belt Should Know
Chapter 2: The Basics and Exercise Forms: Short and Long 1 and Short and Long 2
Chapter 3: The Intermediate Forms: Short Form Three and Long Form Three
Chapter 4: Form Four
Chapter 5: Form Five
Chapter 6: Form Six
Chapter 7: Form Seven
Chapter 8: Form Eight
Chapter 9: The Sets
Now What? Legal viewpoint by Frank Triolo
Capstone--The Thesis Form
General rules of motion
Recommended Reading
About the Author
About the Author
Ninth degree black belt in Kenpo Karate noted in Tom Bleecker's The Journey as one of the world's most proficient kenpoists, with a Bachelor's degree in Criminal Justice from University of Illinois, LEE WEDLAKE, on the Board of Directors of the World Registry of Black Belts, Organization and Federations, is recognized by the Shidokan International group as Hanshi, Chief Grandmaster Instructor; and is a senior advisor to Progressive Kenpo Systems.
Praise For The Kenpo Karate Compendium: The Forms and Sets of American Kenpo…
"Not only has Lee Wedlake been there and done that for more than forty years, but he was exceptionally attentive and took copious notes. Without doubt, Lee Wedlake's The Kenpo Karate Compendium will be one of the most significant and beneficial resources available to Kenpoists worldwide."
—Rich Hale, Senior Professor and President, Ohana Kenpo Karate Association

"Lee Wedlake has been in service to the Kenpo community for years with his written material. This book will be a go-to reference for students and teachers in the years to come."
—Bob White, 9th degree black belt, Kenpo Karate

"Professor Lee Wedlake is the consummate martial artist and teacher. I highly endorse his work."
—Dr. Ron Chapél
 
"Mr. Wedlake conveys his martial authority in amusing and practical ways. This volume deserves consideration and will rivet your attention."
—Tom Baeli, T'ai Chi Instructor.
 
"I am constantly amazed at how Lee Wedlake puts together a body of work that not only educates, but provides the logic of the art of Kenpo. This book will inspire to succeed!"
—Stephen LaBounty, 9th degree black belt
 
 "This book is an invaluable aid to understanding the forms and sets of American Kenpo, written by someone who truly understands the structure and nature of the subject matter contained within. If you are a serious student of Kenpo then this book is a must for your Kenpo library."
—Gary Ellis, 8th Degree Black Belt, Associate Master of the Art of Kenpo Karate