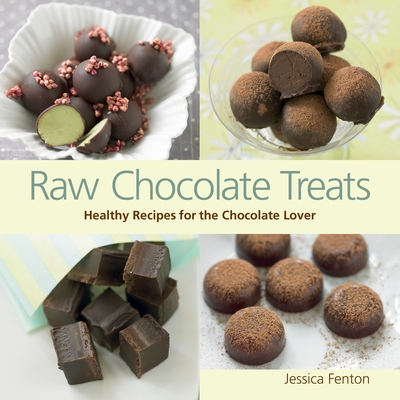 Raw Chocolate Treats
Healthy Recipes for the Chocolate Lover
Hardcover

* Individual store prices may vary.
Description
Jessica Fenton introduces the delicious flavors, health benefits, and versatility of raw chocolate in this beautifully illustrated and informative recipe book. Dispelling the common myth that chocolate is unhealthy, these easy-to-follow recipes for drinks, cookies, cakes, candies, desserts, and party food offer tantalizing ways to boost anti-oxidants and improve overall health. A comprehensive introduction to raw chocolate, from its history to its abundant nutritional benefits, shows why it is becoming an increasingly popular alternative to junk food. For those who want all the benefits of chocolate without the downside—calories, fat, and sugar—Raw Chocolate Treats opens a new world of healthy enjoyment.
 
In addition to the recipes, the book includes a wealth of resource material such as a section on health benefits, a guide to ingredients, and a discussion of equipment. The author provides numerous kitchen tips and a code that indicates the skill level required for each recipe.
 
As diabetes and obesity reach epidemic proportions, millions are looking for alternatives to desserts and sweets that are high in sugar and fat. This book makes a strong case for the health benefits of raw chocolate, which has 7x the antioxidants of dark chocolate. The author explains the powerful medicinal and health benefits of raw chocolate, including that it's one of the highest food sources of magnesium, can reduce blood pressure, aids in liver detoxification, and has no cholesterol. The recipes contain only trace amounts of caffeine and are suitable for vegetarians, vegans, raw foodists, people with diabetes or hyperglycemia, and those on a low-calorie, gluten- and sugar-free diet.
 
 
CONTENTS
 
Raw Chocolate: From Bean to Butter / Raw Chocolate—a History 10 / Health Benefits 12 / A Guide to Ingredients 14 / Making the Most of Raw Chocolate 18 / Raw Chocolate Equipment 20 / Basic Recipes 22
 
Drinks / Raw Chocochino/Cacao & Coconut Water Shake 26 / Cacao Maca Boost/Choctail Mocktail 28 / Raw Chocolate & Banana Smoothie / Winter Warming Drinking Chocolate 30
 
Candies / Raw Chocolate-Coated Brazils 32 / Raw Cacao Fudge 34 / Tangy Lemon Chocolates 36 / Fresh Cherry & Chocolate Truffles 38 / White & Dark Orange Creams 40 / Double-Dunked Raw Chocolate Truffles 42 / Cinnamon-Flavored Raw Chocolate Bars 44 / Peppermint Creams 46 / Ginger Caramels 48 / Almond Butter Truffles 50
 
Cookies & Cakes / Raw Chocolate Cheesecake 52 / Raw Chocolate Brownies 54 / Rich Raw Chocolate & Vanilla Torte 56 / Chocolate Goji Finger Cookies 58 / White Chocolate & Raisin Snaps 60 / Raw Chocolate Gingerbread People 62 / Love Macaroons 64
 
Desserts / Neapolitan Ice Cream 66 / Summer Sorbet/Beet & Mint / Choc Chip Sorbet 68 / Guarana & Goji Nutty Loaf 70 / Little Leo's Dessert 72 / White Raw Choc Chip Pudding 74 / Tingly Raw Chocolate Body Paint 76
 
Party Food / Raw Hemp & Chocolate Spread 78 / Raw Chocolate Gelatin Desserts 80 / Crepes 82 / Banana Split 84
Birthday Cake 86 / Ice Cream Sandwich 88 / Raw Ice Cream Sundae 90 / Milk Chocolate Fruit & Nut Clusters 92 / Cacao Crackers with Spicy Tomato & Cacao Dip 94

North Atlantic Books, 9781583948811, 96pp.
Publication Date: September 30, 2014
About the Author
JESSICA FENTON is a raw food expert, lecturer, writer, lifestyle coach, and nutritionist. She is the founder of the website TotalRawFood.com. She runs raw chocolate workshops, holds raw food dinner parties, and offers a raw nutrition consultancy service.
or
Not Currently Available for Direct Purchase