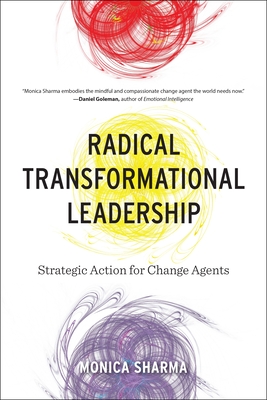 Radical Transformational Leadership
Strategic Action for Change Agents
Paperback

* Individual store prices may vary.
Description
Monica Sharma describes how we can source our inner capacities and wisdom to manifest change that embodies universal values such as dignity, compassion, fairness, and courage. Drawing on more than twenty years of work for the United Nations and elsewhere, she presents a radical new approach to transformational leadership, one that creates systems of change where everyone can engage—not just analysts and policy-makers. Demonstrating that we all can be architects of a new humanity, Monica demystifies policy-making, planning, and implementation so that everyone can play an informed and strategic part in eradicating the world's most intractable problems. Using real-life examples from around the world, she shows how our innate characteristics of universal compassion, equity impulse, and human capability can create new patterns that effectively address major challenges such as gross inequality, unbridled hate, conflicts based on social identity, and the never-enough mindset of greed. Written in a straightforward, accessible style, Radical Transformational Leadership outlines a path-breaking paradigm shift that is already generating equitable and sustainable results across the globe.


Winner of the Nautilus Gold Award for Business and Leadership
Praise For Radical Transformational Leadership: Strategic Action for Change Agents…
"Monica Sharma embodies the mindful and compassionate change agent the world needs now. In Radical Transformational Leadership she offers us all a map for action, and a clarion call to become the change we want to see."
—Daniel Goleman, author of, Emotional Intelligence

"We live in a world battling for peace, threatened with violence, where inequality is justified as both means and ends. This self-destructive worldview is dominated and backed by spurious arguments for a leadership based on the idea of supremacy of a race, religion, or culture. Monica Sharma's counterargument is gentle and persuasive. Her voice, based on experience and conviction, strengthens the case that leadership can be shaped with equality, freedom, and justice, rooted in the transformational power of human compassion."
—Aruna Roy, sociopolitical activist, recipient of 2000 Ramon Magsaysay Award
 
"The survival and future of humanity and civilization depends on the framework Monica Sharma outlines in Radical Transformational Leadership. It is my sincere hope that anyone who wants to participate in healing our wounded planet will read this book and follow its principles."
—Deepak Chopra
 
"Anyone who doubts that the changes needed to lift our world beyond the chaos of today's deep problems and political chest-thumping needs look no further than this book. The 'new field' she describes as 'radical systems and cultural transformation' constitutes a kind of invisible renaissance emerging around the world of understanding the entwined inner and outer nature of genuine systemic change."
—Peter Senge, MIT and Academy for System Change

"In this astonishing and deeply inspiring book, Monica Sharma invites us on a journey that is both life-changing and world-changing.  Drawing on her rich experience and profound wisdom, she shows us how we can tap our inner and outer potential as leaders to help transform the world. I recommend it highly!"
—William Ury, coauthor of Getting to Yes and author of Getting to Yes with Yourself

"Monica Sharma is one of the elder statesmen of Sacred Activism. In this passionate, subtle, brilliant book, distilled from a lifetime of experience in the United Nations and elsewhere, she has given us all a blueprint and map for radical systemic change and how best to enact it. Everyone aspiring to affect authentic leadership in and for our time should read this work. It is destined to become a classic."
—Andrew Harvey, author of The Hope: A Guide to Sacred Activism
 
"We have the capacity to shift the paradigm; Monica Sharma tells us how. With an expansive global vision, a compassionate heart, and radical courage, she shares her practical experience in pioneering transformative leadership. Monica is a rare soul who stands up to power and demands results. We need to listen."
—Nancy Roof, PhD, editor, Kosmos Journal
 
"This is a book that I have been waiting for all my life! Here is the master document on human development and social change written by one of the world's leading social artists. Monica Sharma's brilliant and compassionate work and ingenious know-how has lifted, inspired and helped to alleviate centuries-old problems. She offers a dynamic set of approaches, templates and tools as profound as it is precise in the art and science of transformation. To my mind, it is a crucial systemic exploration of how to work with and transform the interlocking circumstances contributing to the complex problems we are facing. To achieve a world that offers peace, equity, and well-being for everyone, this extraordinary work offers the reader creative ways and means of contributing to a world-changing agenda."
—Jean Houston, PhD, author of Jump Time: Shaping Your Future in a World of Radical Change

"Dr. Monica Sharma shares her deep experience through her work with the United Nations and elsewhere in international human relations, organizing for positive social change. We are informed by her vast knowledge of global issues and her approaches to transition to more sustainable, inclusive, knowledge-richer societies beyond today's dysfunctional economics and achieve the Sustainable Development Goals. This book belongs in libraries and on the shelves of global citizens all over our world."
—Dr. Hazel Henderson, CEO, Ethical Markets Media
North Atlantic Books, 9781583948958, 368pp.
Publication Date: November 21, 2017
About the Author
Monica Sharma, trained as a physician and epidemiologist, worked for the United Nations more than twenty years. Currently, she engages worldwide as an International Expert and Practitioner on Leadership Development for sustainable and equitable change.  She works with United Nations, Universities (e.g. University of Virginia, Johns Hopkins), Management Institutions (Mendoza Business School Notre Dame), governments, business, media and civil society organizations. She is the Tata Chair Professor at the Tata Institute of Social Sciences in Mumbai. She has published and presented over 250 articles in journals and international forums. 

Sharma created and uses a unique response model based on extensive application--a conscious full-spectrum model--which simultaneously solves problems, shifts systems, and creates new patterns sourced from individual inner capacity and transformational leadership. This model has generated sustainable results worldwide.