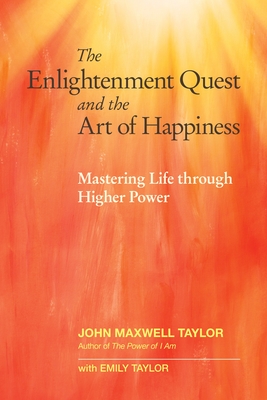 The Enlightenment Quest and the Art of Happiness (Paperback)
Mastering Life through Higher Power
North Atlantic Books, 9781583949184, 328pp.
Publication Date: March 24, 2015
* Individual store prices may vary.
Description
Award-winning actor and playwright John Maxwell Taylor builds on the success of his previous book, The Power of I Am, in this eloquent call to awaken from our collective trance and to claim the transformative power and happiness that is our birthright. Drawing on his forty years' experience in spiritual self-transformation, Taylor offers a potent array of practical tools, stories, and life lessons that help us reorder the events in our lives, the way people respond to us, and the impact we have on the world.  The Enlightenment Quest and the Art of Happiness shows us how to master ourselves so that we can harness the energy of higher power to surmount the chaos of the modern world and provides strategies for "sociological aikido" that allow us to deal effectively with negative people, narcissists, and egotists. Informed by Taylor's incredibly varied background—from European pop star, to student of Paramahansa Yogananda, Gurdjieff, and Mantak Chia, to resident at the pioneering Findhorn Community, to playing Carl Jung on stage for many years—this book demonstrates how, by understanding the powers active in creation, we can become instruments through which higher power continually flows to advance our evolution toward consciousness. In doing so, we not only transform ourselves, we become powerful agents for changing the world.


Readers learn how to: 
• Deal with negative people and egotists
• Use higher power to redirect the world around one to one's own advantage
• Stay sane in an insane world by understanding true spiritual psychology
• See the world as it is instead of spiritually daydreaming that "things are going to get better" 
• Move beyond conspiracy theories and conspire instead to create a united world of consciousness
• Gain fresh insights into the work of Campbell, Jung, Paramahansa Yogananda, Gurdjieff, and others
• Apply the Findhorn principles of miraculous manifestation as practiced by the author since 1973
About the Author
Award-winning actor and playwright JOHN MAXWELL TAYLOR has over forty years experience in spiritual self transformation. Internationally known for his of Carl Jung in his one-man play Forever Jung, Taylor is also the creator of two musicals and the author of The Power of I AM and Eros Ascending, which won a USA Best Book News Award.
Praise For The Enlightenment Quest and the Art of Happiness: Mastering Life through Higher Power…
"The clarity and wisdom from which John Maxwell Taylor communicates is stunning. He gives us the formula for tapping into higher realms of our consciousness to generate self-mastery. This powerful read will change your life for the better if you apply its precepts."—Ken D. Foster, author of Ask and You Will Succeed
 
"Save yourself years of floundering in the spiritual maze and drink deeply from this modern day wisdom master and the classic he has gifted us with."—Satyen Raja, founder of WarriorSage Trainings
 
"A multi-layered resounding success."—Radmila Moacanin, PhD, author of Jung's Psychology and Tibetan Buddhism
 
"Weaving lessons learned from his own life, the words and works of great teachers, and simple practices that connect the ego and the soul, John Maxwell Taylor is a wise and entertaining tour guide."—Steve Bhaerman, coauthor (with Bruce Lipton) of Spontaneous Evolution: Our Positive Future
or
Not Currently Available for Direct Purchase