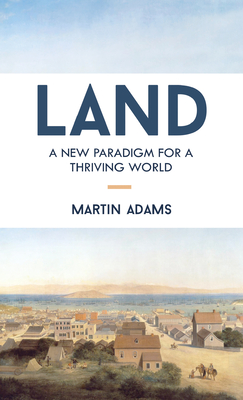 Land
A New Paradigm for a Thriving World
Paperback

* Individual store prices may vary.
Description
What if we lived in a world where everyone had enough? A world where everyone mattered and where people lived in harmony with nature? What if the solution to our economic, social, and ecological problems was right underneath our feet? Land has been sought after throughout human history. Even today, people struggle to get onto the property ladder and view real estate as an important way to build wealth. Yet, as the reader will discover through this book, the act of owning land—and our urge to profit from it—causes economic booms and busts, social and cultural decline, and environmental devastation. Land: A New Paradigm for a Thriving World introduces a radically new economic model that ensures a more fair and abundant reality for everyone. It is a book for those who dream of a better world, for themselves and future generations.

Table of Contents
Introduction
Part I: The Cost of Ignorance
1. The Production of Wealth
2. The Value of Location
3. The Free Market
4. Social Decline
5. Business Recessions
6. Ecocide
7. Earth, Our Home

Part II: A New Paradigm for a Thriving World
8. Restoring Communities
9. Keep What You Earn, Pay for What You Use
10. Local Autonomy
11. Affordable Housing
12. Thriving Cities
13. Sustainable Farming
14. The Price of Peace
15. A New Paradigm

Epilogue: A Personal Note
Appendix: The Math Behind the Science
References & Suggestions for Further Reading
Endnotes
Index
Praise For Land: A New Paradigm for a Thriving World…
"With great clarity and care, this book takes economics to its proper foundation: the earth itself, the land and all that comes from it."
—Charles Eisenstein, Sacred Economics

"A brilliant contribution from one of the most important voices of our time."
—Thom Hartmann

"If you want to truly understand the way out of our present economic challenges, read this book."
—Peter Barnes, Capitalism 3.0

"Land is a modern breakthrough that deserves to be on the reading list of anyone who cares about the ways that together we can create a sustainable future on our planet."
—Judah Freed, The Dawn of Global Sense
North Atlantic Books, 9781583949207, 208pp.
Publication Date: March 3, 2015
About the Author
MARTIN ADAMS is a social innovator, systems thinker, and community organizer. As a child, it pained him to see most people struggling while a few were living in opulence. This inspired in him a lifelong quest to create a fair and sustainable world in collaboration with others. As a young adult, groomed for a career in finance, he walked right past Wall Street and chose instead to dedicate his life to community development. Through his non-profit work, he saw firsthand the extent to which our economic system causes human and ecological strife. Consequently, Adams has devoted himself to the implementation of a new economic paradigm that allows humanity to thrive in harmony with nature. Land: A New Paradigm for a Thriving World is the fruit of his years of research into this economic model and stands as an appeal to changemakers worldwide.
or
Not Currently Available for Direct Purchase