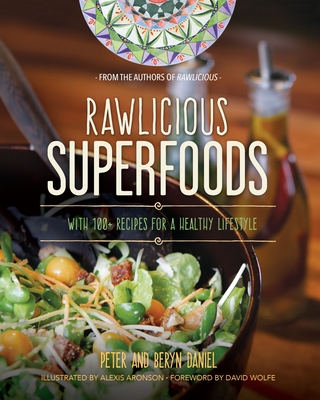 Rawlicious Superfoods
With 100+ Recipes for a Healthy Lifestyle
Paperback

* Individual store prices may vary.
Description
Authors Peter and Beryn Daniel reveal Rawlicious Superfoods. Revered by ancient cultures and verified by scientists, superfoods are reemerging today as a profound solution to widespread nutritional deficiencies. This book combines beautiful illustrations and photos, information on superfoods, and delicious recipes to inspire the whole family. The authors show how to easily add superfoods, from berries to bee pollen to maca to cacao to tonic herbs, to our diets to enjoy delicious health. With over 100 new recipes with full-color photographs and 17 enchanting illustrations to bring each superfood to life, the authors reveal the healing power of the world's top superfoods and share information on cutting-edge nutrition.

Rawlicious Superfoods covers aloe, baobab, goji berries, chia, berries, blue-green algae, camu camu, grasses and microgreens, hemp, coconut, sea vegetables, maca, lucuma, mesquite, bee products, raw cacao, and medicinal herbs and discusses "What Are Superfoods?," "Where Is the Proof?," "What About Cost," "Stocking the Kitchen with Superfoods," and much more so that readers come away with a comprehensive knowledge of superfoods.

From the table of contents:

Foreword by David Wolfe 
Introduction 
Our Journey with Superfoods 
What Are Superfoods? 
Functional Food 
Where Is the Proof? 
What About Cost? 
Quality Is Key 
How to Use This Book 
A Superfoodist's Kitchen 
Stocking the Kitchen with Superfoods 
Aloe 
Baobab 
Goji Berries 
Chia 
Berries 
Blue-Green Algae 
Camu Camu 
Grasses and Microgreens 
Hemp 
Coconut 
Sea Vegetables 
Maca 
Lucuma 
Mesquite 
Bee Products 
Raw Cacao 
Medicinal Herbs
North Atlantic Books, 9781583949221, 280pp.
Publication Date: May 12, 2015
About the Author
Founders of the raw food movement in South Africa, Peter and Beryn Daniel are raw food chefs, authors of the Rawlicious: Recipes for Radiant Health recipe book, and producers of the four-part Rawlicious: Elements for Radiant Health DVD series.
or
Not Currently Available for Direct Purchase