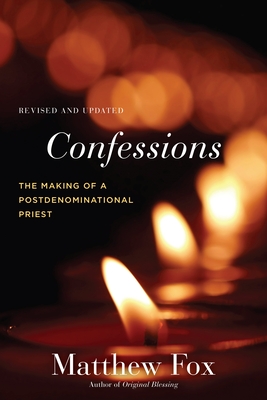 Confessions, Revised and Updated
The Making of a Postdenominational Priest
Paperback

* Individual store prices may vary.
Description
Matthew Fox's stirring autobiography, Confessions, reveals his personal, intellectual, and spiritual journey from altar boy, to Dominican priest, to his eventual break with the Vatican. Five new chapters in this revised and updated edition bring added perspective in light of the author's continued journey, and his reflections on the current changes taking place in the Catholic church.

Instead of living out his vows as a Dominican brother Matthew Fox was expelled from the Order after 34 years by Cardinal Ratzinger, who later became Pope Benedict XVI. Fox took this as a warning from the Church that henceforth thinkers should not think, but get in line. It is from this anti-intellectual, inquisition-style mentality that the cover-up of priestly pedophilia also grew as the Vatican appointed several generations of bishops and cardinals whose only criterion for selection was that they be uncritical yes-men.

Confessions tells the inside story of what it was like "standing in front of the train" when the Vatican was on the attack. It also reflects on the meaning of the encouragingly healthy papacy of Pope Francis, but holds little hope for the institutional church. Rather, this book points to the main interest and accomplishments of the author's work to bring spirituality and prophetic warriorhood alive again in society and religion. Fox draws inspiration from great mystics of the past, such as Hildegard of Bingen (a champion of the Divine Feminine) and Meister Eckhart (a profoundly mystical and ecumenical champion of those without a voice), and the return of the archetype of the Cosmic Christ alongside the teachings of the historical Jesus and the bringing forth of the wisdom traditions from all the world's spiritual traditions to stand up for eco-justice, gender justice, economic justice and social justice.
Praise For Confessions, Revised and Updated: The Making of a Postdenominational Priest…
"This highly charged autobiography of a priestly life will stand as a lasting memorial to the difficulty of maintaining certain articles of faith and dogma at a time of shifting cultural paradigms. Fox's portrait of himself as he realizes that the truth he is pursuing is incompatible with the truth that his church can allow him to believe is likely to become a classic." —Publishers Weekly

"'Hearing Matt Fox talk, I feel less lonely in the universe,' said a street priest fifteen years ago. We should all feel less lonely now with this exhilarating, deeply companionable book in our hands. The unfolding story of this irrepressible spiritual revolutionary enlivens the mind and emboldens the heart—must reading for anyone interested in courage, creativity, and the future of religion."
—Joanna Macy, author of World as Lover, World as Self
 
"Traditionally, when big government in the church tries to silence a good soul, it indicates that the soul is often far ahead of the times. Matthew Fox is such a person. He writes simply, powerfully, about his life as a visionary. He continues now, as before, to give out the twenty-first-century keys to the kingdom."
—Clarissa Pinkola Estés, PhD., author of Women Who Run with the Wolves

"Matthew Fox has created a new mythic context for leading us out of our contemporary religious and spiritual confusion into a new clarity of mind and peace of soul, by affirming rather than abandoning any of our traditional beliefs."
—Thomas Berry, author of The Great Work
 
"Matthew Fox is one of our greatest and most essential teachers. In his updated Confessions he takes us on a journey into the depths of his heart and mind and shares the fierce ordeals and saving revelations that have shaped his pioneering work. Read this unique book and share it with others."
—Andrew Harvey, author of The Hope: A Guide to Sacred Activism
 
"Jung developed the idea that when the unconscious of any tribe, group, or community, is disturbed in its collective functioning 'there is always a medicine man who has a dream concerning the matter.' Matthew Fox is such a man. He recognizes that healing is a natural part of the via transformativia and that it is a priestly function to contribute, through compassion and social justice, to the healing of the collectivity."
—Steven Herrmann, PhD, MFT, author of Spiritual Democracy: The Wisdom of Early American Visionaries for the Journey Forward


North Atlantic Books, 9781583949351, 504pp.
Publication Date: November 10, 2015
About the Author
Matthew Fox is an internationally acclaimed theologian and spiritual maverick who has spent the last forty years revolutionizing Christian theology, taking on patriarchal religion, and advocating for a creation-centered spirituality of compassion and justice and re-sacralizing of the earth. He has written more than thirty books, which have sold over 1.5 million copies in fifty-nine languages.

Originally a Catholic priest, Fox was silenced for a year and then expelled from the Dominican order, to which he had belonged for thirty-four years, by Cardinal Ratzinger for teaching liberation theology and creation spirituality. Fox currently serves as an Episcopal priest, after he received what he calls "religious asylum" from the Episcopal Church. With exciting results he has worked with young people to create the Cosmic Mass to revitalize worship by bringing elements of rave and other post-modern art forms to the western liturgical tradition.

Fox has worked extensively and consciously to reinvent forms of education for thirty-four years in master's degree and doctor of ministry programs with adults, as well as with inner city high school students in his program called YELLAWE. Key to that reinvention, he believes, is putting Creativity first.

In 1976 Fox founded the Institute in Culture and Creation Spirituality (ICCS) at Mundelein College in Chicago, Illinois. The master's program was designed to step out of the overly heady academic pedagogy that dominated in European-based models of education in order to educate all the chakras including the heart. The program included many artists as faculty along with scientists and teachers from many faith traditions.  After seven years Fox moved it to Holy Names College in Oakland, California where it thrived for twelve years. The program was eventually terminated in the wake of Fox's expulsion from the Dominican order.

Rather than disband his amazing and ecumenical faculty, Fox started his own University in 1996 called the University of Creation Spirituality, where he was president, professor, chief fund raiser and recruiter for nine years. Its Doctor of Ministry degree was unique in the world since it honored the inherently priestly work of all workers who are midwives of grace (Fox's definition of the priesthood archetype) in their work. It drew amazing students from a variety of professions, all of whom felt called to deepen their spirituality and to reinvigorate their work as agents of social transformation.

Fox is a recipient of numerous awards, including the Gandhi-King-Ikeda Peace Award from Morehouse College, the Humanities Award of the Sufi International Association of Sufism, the Tikkun Ethics Award, and the Courage of Conscience Award from the Peace Abbey of Sherborn, Massachusetts. Other recipients of this award include the Dalai Lama, Mother Theresa, Ernesto Cardinal, and Rosa Parks. Fox is currently a visiting scholar at the Academy of the Love of Learning in Santa Fe, New Mexico, and lives in Oakland, California.
or
Not Currently Available for Direct Purchase