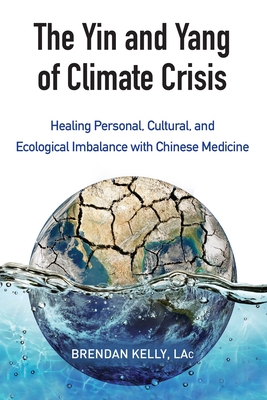 The Yin and Yang of Climate Crisis
Healing Personal, Cultural, and Ecological Imbalance with Chinese Medicine
Paperback

* Individual store prices may vary.
Description
Marrying western environmentalism with Chinese medicine, this revolutionary book illustrates the many ways that our personal well-being and climate health are vitally connected
 
Crises such as melting ice caps, dying forests, and devastating floods are symptoms of deeper issues, both within us as individuals and within our culture. Informed by author Brendan Kelly's experience as a practitioner of traditional Chinese medicine, The Yin and Yang of Climate Crisis reveals that the current life-threatening severity of climate change speaks to the level of imbalance that exists in the people and institutions responsible for the crisis. Considering issues such as loss of life from increasingly severe storms, stress on farmers from rapidly changing weather, and increasing rates of disease, this book goes on to present hopeful, deep-reaching personal and societal remedies to treat the underlying causes of climate change and to restore our own health.

The Yin and Yang of Climate Crisis blends the external focus of environmentalism—western science, policy issues, regulations—with the internal focus of Chinese medicine—personal health, balancing Qi, diet—to present a holistic view of our interrelationship with the planet. Kelly provides a deeper look at how we've gotten to this place of climate destabilization and ways to treat both the symptoms and their root causes. Looking through the lens of Chinese medicine, we are better able to understand that the severity of climate destabilization speaks to deeper philosophical and spiritual issues and provides an opportunity to address our own personal and collective imbalances. With his unique perspective and far-reaching perceptions, Kelly encourages us to translate the reality of our warming planet into an opportunity to ask bigger and deeper questions, including who we are, what we're here to do, and what promotes health and healing.
Praise For The Yin and Yang of Climate Crisis: Healing Personal, Cultural, and Ecological Imbalance with Chinese Medicine…
"Brendan Kelly is contributing to an important emerging understanding: that climate change is not fundamentally a technical problem of greenhouse gases that can be addressed with technical solutions. It is a symptom of the modern way of being in the world."—Charles Eisenstein, bestselling author of Sacred Economics and The More Beautiful World Our Hearts Know is Possible

"In an age perturbed by technological dependence, rise in cancer afflictions, and alienation from nature, Brendan Kelly skillfully applies the theories of Chinese medicine to the global crisis of climate change. Kelly's seeds of insight can be sowed by readers so that a harvest of optimism around the world we live in can be achieved and celebrated."—Dr. Jeffrey Yuen, 88th generation Daoist priest, internationally recognized teacher and practitioner of Chinese medicine

"The human body is a mirror of our home planet. The Yin and Yang of Climate Crisis not only teaches that the body and earth are connected, it explains the need for healing both."—Scott Frazier, member of the Crow/Santee tribe; founder and director of Project Indigenous
 
"Brendan Kelly uses his expertise in Chinese medicine to draw a connection between the environmental excesses that have led us to the age of climate change and the individual excesses that lead to depletion, imbalance, and disease. His fascinating book offers fresh, clear insight into the root causes of both, as well as a map toward greater personal and environmental health and balance."—Kristin Kimball, author of The Dirty Life; farmer and co-founder of Essex Farm
 
"Brendan Kelly invites us to set aside our typical ways of thinking—reductionistic, fragmented, and dualistic—and to embrace a more holistic and systemic mode of thought. Using the conceptual framework of Chinese medicine, Kelly incisively diagnoses the source of what most ails us, both personally and collectively, and offers guidelines for meaningful change. What could be more important?"—John Christopher, PhD, Fellow of the American Psychological Association and the Mind & Life Institute
 
"With a radically expansive understanding of holistic principles, Brendan Kelly shows us that the remedy for our individual bodies and our planet-body is the same. He invites us to look at the deeper causes of our situation and, in so doing, to experience deeper purpose and connection with life. This book is a must-read for anyone who cares about the earth."— Sarah Von Hoy, PhD, LAc, professor at Goddard College
 
"The Yin and Yang of Climate Crisis is a brilliantly written, far-sighted exploration of climate change using Chinese medicine as an ancient way to see personal mind-body inflammation as deeply interrelated with the earth's rising heat.  This book empowers people to embrace cooler lifestyles and less inflammatory diets to help rebalance their own lives and in a small, yet organically powerful, way."—Susan Green, PhD, department chair of Behavioral Sciences and director of Wellness & Alternative Medicine, Johnson State College
North Atlantic Books, 9781583949511, 248pp.
Publication Date: September 1, 2015
About the Author
Brendan Kelly has been actively involved with local, regional, and national environmental issues for twenty-five years. The co-founder and co-owner of Jade Mountain Wellness, where he currently practices acupuncture and herbalism, he also teaches at Johnson State College and the Academy for Five Element Acupuncture. Kelly lectures natinoally on a wide variety of topics, including Chinese medicine, Western herbal medicine, personal health, climate change, and other environmental issues. A long-time practitioner of tai chi ch'uan, he was authorized to teach by internationally recognized teacher and author Wolfe Lowenthal. Please visit http://personalasecological.com for more information and upcoming events.
or
Not Currently Available for Direct Purchase