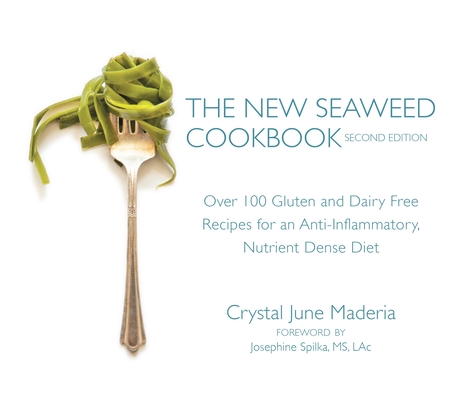 The New Seaweed Cookbook, Second Edition
Over 100 Gluten and Dairy Free Recipes for an Anti-Inflammatory, Nutrient Dense Diet
Paperback

* Individual store prices may vary.
Description
This beautifully illustrated new edition of The New Seaweed Cookbook is a must-have collection of 106 delicious recipes featuring the rich and deeply nourishing flavors of sea vegetables of all kinds. Known for its healing properties in detoxifying the body and reducing inflammation, seaweed is the most abundant food on Earth—a nutrient-dense super food with a long history of medicinal uses.

Author and chef Crystal June Maderia provides exciting options—such as Hijiki Caviar; Roast Lamb with Mint, Arame, and Kumquat Jam; Maple Toffee with Black Cumin—for vegans and meat-eaters and everyone in between. Her recipes are formulated to complement healing diets—including those suggested for arthritis, autism, fibromyalgia, celiac disease, and dairy and wheat intolerances—and are free from ingredients commonly identified with sensitivities, intolerances, and allergens.
 
With easy-to-follow instructions and easy-to-find ingredients, Maderia's recipes will awaken taste buds with their unique flavors of sea vegetables. Rich dark greens, purples, and blacks of a variety of sea vegetables accentuate other flavors while providing concentrated nutritional value and a diverse range of minerals essential to achieving and maintaining optimal health. B-vitamin folate, magnesium, iron, calcium, riboflavin, pantothenic acid, iodine, and lignans deliver nourishment to the hormonal, lymphatic, urinary, circulatory, and nervous systems while soothing the digestive tract, dissoving fatty build-ups in the body, and protecting cells from cancer and radiation. Get your fill of the ocean's leafy greens and bring the serious umami of wakame, nori, and kelp into your cooking repertoire.
 
 
Praise For The New Seaweed Cookbook, Second Edition: Over 100 Gluten and Dairy Free Recipes for an Anti-Inflammatory, Nutrient Dense Diet…
"I am grateful to chef Crystal June Maderia for The New Seaweed Cookbook, which teaches the creative use of sea vegetables, a foundational food that not only deeply nourishes, but initiates regeneration and detoxification. Her easy-to-follow recipes will inspire people cooking at home to include more seaweed and other wholesome foods in their diets, an effort I applaud." 
—Paul Pitchford, author of Healing with Whole Foods: Asian Traditions and Modern Nutrition

"The New Seaweed Cookbook combines wise nutrition with modern cooking, and offers a brand new take on a very old (and healing) food group! Crystal's recipes are easy to follow and have reinspired a love for my green sea veggies once again."
—Alexandra Jamieson, CHHC, CAPP, cocreator of Super Size Me and author of Women, Food, And Desire

"There's simply nothing that Crystal Maderia does with food, whether it's teaching, cooking, or writing about it, that's not exceptionally well done. There's a reason her restaurant is one of the most popular in central Vermont. She creates a feast for the senses through food and her awareness of how good food is directly related to good health. Her taste-tantalizing The New Seaweed Cookbook, brings us the best of healthy and gourmet recipes that are simple to prepare and simply delicious. Highlighting one of nature's most nutrient-dense and delicious foods and packed full of exciting new recipes, The New Seaweed Cookbook  'invokes  beauty and wonder,' while easing us into a great new culinary adventure. This is 'health food' at its very best—real food, grown naturally, and unbelievably tasty!"
—Rosemary Gladstar, author and herbalist
North Atlantic Books, 9781583949863, 240pp.
Publication Date: November 10, 2015
About the Author
Crystal June Maderia is a mother, chef, instructor, and consultant. In 2006, she opened her own whole-foods focused, farm-to-table restaurant, Kismet, in Montpelier, Vermont, and currently manages her restaurant gardens, a foraging crew, and teaches holistic nutrition and food science to high school students in central Vermont.
or
Not Currently Available for Direct Purchase