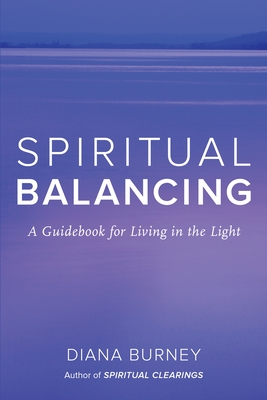 Spiritual Balancing
A Guidebook for Living in the Light
Paperback

* Individual store prices may vary.
Description
This guide to spiritual empowerment provides a spiritual approach to the psychology of everyday living by offering practical strategies and step-by-step methods for clearing out negative psychic energy. Addressing topics such as spirit interference, spirit possession, and spirit attachment, Diana Burney--who has helped thousands worldwide refocus energies for positive results--shares timeless lessons and basic techniques for psychic protection and spiritual cleansing. Those who feel stuck energetically, emotionally, mentally, or financially will learn tools for healing and self-empowerment that will help them release impediments and accelerate their spiritual journey. In these difficult times, Spiritual Balancing provides answers for readers at all levels of spiritual growth as they seek to establish and maintain equilibrium in body, mind, and spirit.
 
Contents
Chapter One: Moving Forward Spiritually
Chapter Two: How to Cope With the Ascension Process
Chapter Three: Elimination of Barriers
Chapter Four: Clearing Your Living Space
Chapter Five: Spiritual Protection
Chapter Six: Violet Fire
Chapter Seven: Spiritual Power Tools
Chapter Eight: Spiritual Ecology
Chapter Nine: Divine Guidance
Chapter Ten: The Empowerment of Meditation
Chapter Eleven: Toward Energy Mastery
Chapter Twelve: Energy Matrix of Chakras
Chapter Thirteen: Awakening Divine Blueprint
Chapter Fourteen: Spiritual Growth Exercises
Chapter Fifteen: Earth Healings
Praise For Spiritual Balancing: A Guidebook for Living in the Light…
"From cover to cover, this book contains a vast amount of practical, beneficial, and illuminating information, and whether you are a long-time spiritual aspirant or a newcomer, all you need to know to become a Spiritual Master is in this transcendental book. Trust that you have been guided here…"
—Amara Mahdhuri, author of The Fast Track to Enlightenment

"Ms. Burney presents in this book a veritable cornucopia of wisdom and practices designed to help the reader recognize the energetic signs of ascension, and to strengthen one's health, vitality, vision, and spiritual vibrancy. The breadth of her knowledge and experience is impressive."
—Robert W. Alcorn, MD, author of Healing Stories

"Spiritual Balancing is a valuable compilation of virtually unknown spiritual teachers. [Burney] writes for beginners on a spiritual path and includes practical suggestions and practices feom her own spiritual journey."
—LaUna Huffines, author of Healing Yourself with Light

"At a time when our world is threatened by adverse effects of human endeavor, Spiritual Balancing offers hope and wise guidance for reclaiming our collective journey toward the highest good for ourselves, the earth, and all who dwell here with us."
—Elise and Kaleo Ching, authors of The Creative Art of Living, Dying, and Renewal

"Diana's latest self-help book, Spiritual Balancing, is packed with relevant spiritual tools and tips for dealing with the new energies hitting Earth. I found myself learning so much new information that my head was spinning with all the possibilities ahead!"
—Nora Caron, author of Journey to the Heart, New Dimensions of Being, and Jaguar Dreams

"Diana has put together a concise and illuminated compendium of wisdom for today's seekers."
—Patricia Cori, author of the Sirian Revelations trilogy
North Atlantic Books, 9781583949887, 296pp.
Publication Date: February 16, 2016
About the Author
Diana Burney, author of Spiritual Clearings: Sacred Practices to Release Negative Energy and Harmonize Your Life, is a registered nurse, certified hypnotherapist, and ordained minister of the Order of Melchizedek from the Sanctuary of the Beloved in Conesus, New York. She is also a certified Reiki Master/Teacher as well as a Magnified Healing Practitioner. With over forty years' experience in management, counseling, marketing, and education, Burney has developed successful private counseling practices in four states. She has performed thousands of clearings for properties, individuals, and animals in every state in the US and over 90 foreign countries.
or
Not Currently Available for Direct Purchase