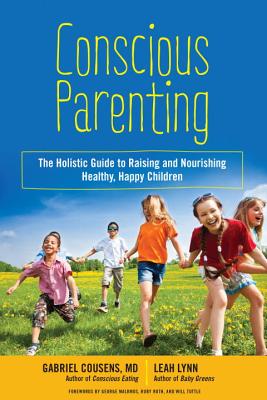 Conscious Parenting
The Holistic Guide to Raising and Nourishing Healthy, Happy Children
Paperback

* Individual store prices may vary.
Description
Conscious Parenting is a great resource for parents seeking advice on optimal vegan nutrition and the importance of unplugging and having quiet time in nature for today's children. Anchored by extensive research on the importance of diet and environment by the world's leading authority on spiritual nutrition, the book is packed with advice and information to help you
• choose authentic, organic, vegan food for optimal health;
• support your child's emotional, social, and mental development;
• counter the effects of environmental toxins and harmful media;
• and create a nurturing environment for your child's spiritual growth.

Table of Contents (Preview)
Chapter 1: The Role of the Alive Parent / The Role of the Alive Child
Chapter 2: Creating an Alive Environment / Six Foundations for Spiritual Life / The Sevenfold Peace
Chapter 3: Perspectives on Support for the Alive Child According to Stages of Development
Chapter 4: Supporting the Child's Physical Development / Living Foods for the Living Body / The Vegan, Live-Food Solution is Safe / A New Look at Transitioning from Eating Flesh Food / Don't Eat the Fish / Don't Pig Out / Poultry Problems
Chapter 5: Why Authentic, Vegan, Organic Food? / Organic Foods / Organic Veganic Farming / Pesticide Pestilence / Protect Yourself Against Food Chemicalization / Genetically Engineered Foods / Irradiated Foods: Another Biohazard / Go Organic / The Low-Sugar Piece to the Whole Food Puzzle / Natural Low Sugar and No Sugar Sweeteners / Minerals and Children: Precious Gems / Children Need Dietary Fats / Protein for Growing Bodies/ Is a Plant-Sourced Diet Safe for Children? / But Children Don't Like Healthy Food? Soy What? And Other Vegan Foods to Be Wary Of
Chapter 6: Holistic Veganism
Chapter 7: Supporting the Child's Emotional Development / Living Foods and Freeing Up Emotions / Listening to How the Child Feels about Eating Animals / Thoughts, Emotions, and the Preparation of Food / Self-Esteem
Chapter 8: Supporting the Child's Social Development / Living Foods and the Child's Social Development / Positive Socialization within the Home / Peaceful Conflict Resolution / Other Opportunities for Positive Socialization / Have You Ever Heard of the Candy Fairy?
Chapter 9: Supporting the Child's Mental Development / Movement and the Mind / Childhood Depression / Nature and Learning / Emotional Safety and Learning / Deficient Diet and Mental Degeneration / Living Nutrition for the Living Brain / "Vitamin-O" (Oxygen) / Water / Food for Thought /The Mythological Dangers of High Cholesterol and High Fat / Health Dangers of Low Cholesterol / The Importance of Omega-3s for Health / Media Affects on the Child's Mind / The Harmful Effects of Pornography
Chapter 10: Synergistic Toxicity of Brain and Body / The Great Vaccine Question for Parents Who Value Alive and Conscious Children: What To Do? / Gluten / Marijuana: Toxicity to the Brain / Fluoride: Toxicity to the Brain and Body / EMFs and Our Children's Brains / Perspectives on Dairy
Chapter 11: Supporting the Child's Spiritual Development / Spiritual Nutrition for Childhood / Supporting the Spirit of the Child with Silence / Imagination / Meaningful Work /Wisdom Teachings / Music/
Chapter 12: Recipes for Children / Resources for Holistic Parenting
Praise For Conscious Parenting: The Holistic Guide to Raising and Nourishing Healthy, Happy Children…
"Conscious Parenting is a call to collectively raise our standards of life and reach the potential inherent in ourselves and our kids. The mind-blowing conclusions in this book make it an essential guide and resource for every person who knows a child—we'll be wise to listen."
—Ruby Roth,author and illustrator of children's books That's Why We Don't Eat Animals, Vegan Is Love, and V Is for Vegan

"In this important and much-needed volume, Dr. Gabriel Cousens and Montessori teacher Leah Lynn weave insights gleaned from decades of clinical research as well as from deep immersion in respected ancient wisdom traditions. This pioneering book is perhaps the first to address the important issues surrounding nutrition and parenting in a deep and holistic way."
—Will Tuttle, PhD, author of The World Peace Diet

"Kudos to Gabriel Cousens, a long-time pioneer in promoting veganism and increased spirituality, and Leah Lynn for writing such an important book. Conscious Parenting is encyclopedic in providing the scientific and spiritual basis for becoming a successful vegan parent, including how to best support a child's physical, social, emotional, and spiritual development.… At a time when it is becoming increasingly apparent that a societal shift toward vegan diets is essential to efforts to help avert a climate catastrophe and other environmental disasters and to help reduce the current epidemic of diet-related killer diseases, this thoroughly researched and clearly written book is a valuable addition to the rapidly increasing literature on veganism."
—Richard H. Schwartz, PhD, Professor Emeritus, College of Staten Island and author of Judaism and Vegetarianism

"Following Dr. Cousens's guidance, you and your children can reach extraordinary health."
—Neal Barnard, MD, author of Power Foods for the Brain

"Gabriel Cousens and Leah Lynn have restored parenthood to its true purpose: drawing out the Light of God that is a child."
—Rabbi Michael Shevack, founder of the Association for Universal Judaism and author of The Six Fix

"A landmark contribution in the field of pediatric care."
—Anna Maria and Brian Clement, PhD, LN, directors of the Hippocrates Health Institute
North Atlantic Books, 9781583949962, 600pp.
Publication Date: September 1, 2015
About the Author
Rabbi Gabriel Cousens, MD, is a world-recognized medical doctor and spiritual teacher. He is the founder and director of the Tree of Life Foundation, which trains spiritual counselors and coordinates international humanitarian programs benefiting disadvantaged families, children, and indigenous cultures through holistic education. A leading medical authority with forty years of success in healing diabetes naturally, he is also the founder and director of the Tree of Life Rejuvenation Center in Patagonia, Arizona, a healing center for spiritual and physical healing. A best-selling author and the creator of Dr. Cousens's Diabetes Recovery Program, he uses the modalities of diet, nutrition, naturopathy, Ayurveda, and homeopathy blended with spiritual awareness in the healing of body, mind, and spirit.

Leah Lynn is a former Montessori preschool teacher and the author of Baby Greens; A Live Food Approach for Children of All Ages.  She is a spiritual teacher at the Tree of Life Center US, a holistic healing center in Patagonia Arizona founded by Rabbi Gabriel Cousens, MD.  Leah is also the founder of I'm Alive! Food For Kids which is a live food online resource for parents and children.
or
Not Currently Available for Direct Purchase