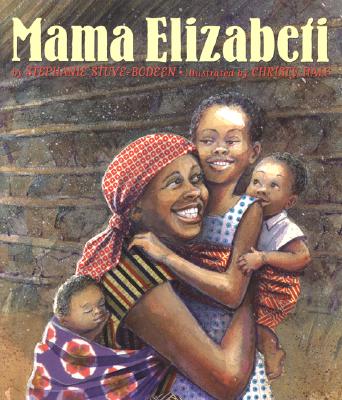 Mama Elizabeti (Paperback)
Lee & Low Books, 9781584302360, 32pp.
Publication Date: May 22, 2005
Other Editions of This Title:
Hardcover (5/1/2000)
* Individual store prices may vary.
Description
Elizabeti has a new baby sister, so now Elizabeti has to help take care of her younger brother, Obedi. Elizabeti knows just what to do. She has been taking care of her "baby," a rock doll named Eva, since Obedi was a baby.
But taking care of a real child isn't as easy as taking care of a rock doll. Elizabeti tries to sweep the floor, but Obedi pulls her hair. Elizabeti sifts rocks out of the rice, but Obedi spills it on the ground. When Elizabeti goes to get water, Obedi wiggles so much that the heavy water jug falls off her head. Poor Elizabeti. How will she get anything done?
Author Stephanie Stuve-Bodeen and artist Christy Hale team up again to tell a loving and tender story that all children -- and mothers -- can relate to, as Elizabeti discovers the true bond she has with her little brother. Mama Elizabeti, like Elizabeti's Doll, will prove to be a classic for all ages.