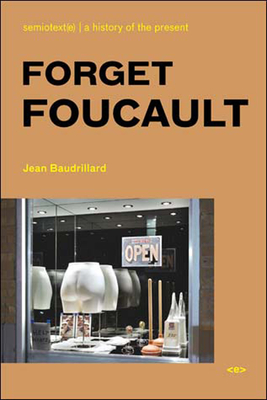 Forget Foucault (Semiotext(e) Foreign Agents) (Paperback)
Semiotext(e), 9781584350415, 125pp.
Publication Date: May 11, 2007
* Individual store prices may vary.
Description
Characterizing it as a "mythic discourse," Jean Baudrillard proceeds, in this brilliant essay, to dismantle the powerful, seductive figure of Michel Foucault.
In 1976, Jean Baudrillard sent this essay to the French magazine Critique, where Michel Foucault was an editor. Foucault was asked to reply, but remained silent. Forget Foucault (1977) made Baudrillard instantly infamous in France. It was a devastating revisitation of Foucault's recent History of Sexuality--and of his entire oeuvre--and also an attack on those philosophers, like Gilles Deleuze and F lix Guattari, who believed that desire could be revolutionary. In Baudrillard's eyes, desire and power were interchangeable, so desire had no place in Foucault's work. There is no better introduction to Baudrillard's polemical approach to culture than these pages, in which Baudrillard dares Foucault to meet the challenge of his own thought. This Semiotext(e) edition of Forget Foucault is accompanied by a dialogue with Sylv re Lotringer, "Forget Baudrillard," a reevaluation by Baudrillard of his lesser-known early works as a post-Marxian thinker. Lotringer presses Baudrillard to explain how he arrived at his infamous extrapolationist theories from his roots in the nineteenth and early twentieth century social and anthropological works of Karl Marx, Marcel Mauss, and Emil Durkheim.