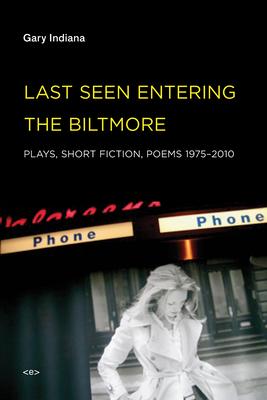 Last Seen Entering the Biltmore (Paperback)
Plays, Short Fiction, Poems 1975--2010 (Semiotext(e) Native Agents)
Semiotext(e), 9781584350903, 311pp.
Publication Date: November 5, 2010
* Individual store prices may vary.
Description
Previously unpublished plays and writings by one of today's foremost satirical authors.
Before publishing his celebrated first novel, Horse Crazy, in 1987, Gary Indiana wrote and directed twelve plays for an informal company whose performers included the painter Bill Rice, composer Evan Lurie, the poet George-Therese Dickenson, writer and film actress Cookie Mueller, Warhol superstar and painter Viva, writer Victoria Pedersen, singer/actress Sharon Niesp, photographer Allen Frame, the legendary Taylor Mead, novelist Larry Mitchell, and others. Performed at the Mudd Club, Club 57, The Performing Garage, and Bill Rice's E. 3rd Street studio, Indiana's plays offered a kind of community theater for New York's underground.
This volume presents highlights of that repertoire, including Alligator Girls Go to College, The Roman Polanski Story, and Indiana's script for Michel Auder's videofilm A Coupla White Faggots Sitting Around Talking, accompanied by archival performance photographs and selections from Indiana's contemporaneous journals and poems. These hilarious, incisive writings and scripts evoke a vivid and accurate portrait of writers and artists in the lower Manhattan of the 1980s--arguably America's last avant-garde--and anticipates Indiana's impressive subsequent literary career.
About the Author
Hailed by The Guardian as "one of the most important chroniclers of the modern psyche," Gary Indiana is the author of a darkly satirical trilogy set in Southern California during the late 1990s: Resentment, Depraved Indifference and Three Month Fever: The Andrew Cunanan Story. His 2008 novel Shanghai Gesture was praised by Bookforum as "structured delirium... an aesthete's hallucinatory folktale." He is also the author of two collections of essays, Utopia's Debris and Let It Bleed. Indiana teaches philosophy and literature at the New School in New York City.
or
Not Currently Available for Direct Purchase