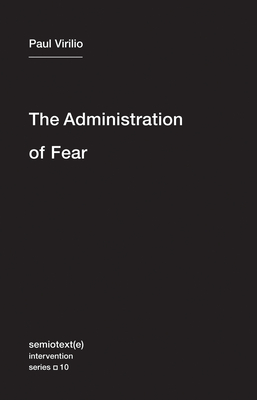 The Administration of Fear (Semiotext(e) / Intervention Series #10)
Paperback

* Individual store prices may vary.
Description
A new interview with the philosopher of speed, addressing the ways in which technology is utilized in synchronizing mass emotions.
We are living under the administration of fear: fear has become an environment, an everyday landscape. There was a time when wars, famines, and epidemics were localized and limited by a certain timeframe. Today, it is the world itself that is limited, saturated, and manipulated, the world itself that seizes us and confines us with a stressful claustrophobia. Stock-market crises, undifferentiated terrorism, lightning pandemics, "professional" suicides.... Fear has become the world we live in.
The administration of fear also means that states are tempted to create policies for the orchestration and management of fear. Globalization has progressively eaten away at the traditional prerogatives of states (most notably of the welfare state), and states have to convince citizens that they can ensure their physical safety.
In this new and lengthy interview, Paul Virilio shows us how the "propaganda of progress," the illuminism of new technologies, provide unexpected vectors for fear in the way that they manufacture frenzy and stupor. For Virilio, the economic catastrophe of 2007 was not the death knell of capitalism, as some have claimed, but just further evidence that capitalism has accelerated into turbo-capitalism, and is accelerating still. With every natural disaster, health scare, and malicious rumor now comes the inevitable "information bomb"—live feeds take over real space, and technology connects life to the immediacy of terror, the ultimate expression of speed. With the nuclear dissuasion of the Cold War behind us, we are faced with a new form of civil dissuasion: a state of fear that allows for the suspension of controversial social situations.
Semiotext(e), 9781584351054, 96pp.
Publication Date: February 24, 2012
About the Author
Paul Virilio was born in 1932 and has published a wide range of books, essays, and interviews grappling with the question of speed and technology, including Speed and Politics, The Aesthetics of Disappearance, and The Accident of Art, all published by Semiotext(e).