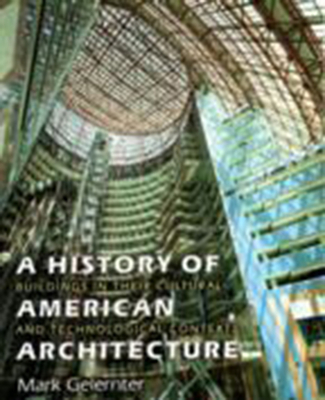 A History of American Architecture (Paperback)
Buildings in Their Cultural and Technological Context
University Press of New England, 9781584651369, 368pp.
Publication Date: July 1, 2001
* Individual store prices may vary.
Description
Why did the Victorians drape their buildings in elaborately ornate decoration? Why was the Arts and Crafts movement so popular with the American middle class at the end of the 19th century? Why did Modernism replace traditional architectural styles after World War II? Mark Gelernter provides fresh answers to questions like these, convincingly showing how buildings express powerful cultural forces. Embodying deeply felt attitudes about fundamental issues, buildings express our relationship with nature, our social relations with others, the importance of the individual, the value of science and technology, and our political role in the world. He explains how designers sometimes expressed these ideas with available building technologies, while at other times they invented new technologies in order to realize new ideas. Each of the ten chronological chapters, accompanied by almost 300 photographs, drawings, and maps, begins with a broad survey of the dominant cultural forces and technologies, and then discusses how designers of the day responded with particular architectural forms.
About the Author
MARK GELERNTER is Dean of the College of Architecture and Planning, University of Colorado Denver. An accomplished architectural illustrator and winner of several teaching awards for his ability to bring architectural history alive, he is author of Sources of Architectural Form (1995).
or
Not Currently Available for Direct Purchase