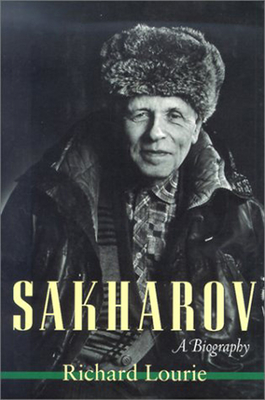 Sakharov
A Biography
Hardcover

* Individual store prices may vary.
Description
"As a thinker, as a man of uncanny judgment and courage, [Andrei Sakharov] was the one figure in the drama of the Soviet collapse who was the equal of Jefferson, Adams, and the rest," wrote David Remnick in The New Yorker. One of the greatest physicists of the twentieth century—the "father of the Soviet H-bomb"—Sakharov won even greater renown later in life as the leading dissident in the Soviet Union. His courageous and untiring activities in defense of human rights won him the Nobel Peace Prize, six years of exile in the closed city of Gorky, and finally, official restitution as a symbol of Gorbachev's perestroika. Richard Lourie, who translated Sakharov's memoirs, has now written the first full biography of this towering figure of the last century. Drawing on a wide range of sources—including previously secret KGB files, as well as Sakharov's own correspondence—Lourie tells the story of a life intimately bound up with Soviet history. With the H-bomb, Sakharov made the Soviet Union a superpower; with his courage and moral conviction, he made it accountable to the world for its treatment of its citizens. His untimely death in December 1989 cut short a budding career as a politician, for at the end of his life, Sakharov had been elected to the Congress of People's Deputies and was engaged in a campaign to reform the Soviet constitution. As a scientist, Sakharov not only helped change the world through the creation of thermonuclear weapons, he also engaged in theoretical research whose ultimate significance is yet to be determined. As a Russian, he has been ranked by his own people with Lenin and Stalin in terms of his influence on the country. As a human being, he set a standard for principled dissent and compassion acknowledged the world over. This intelligent, detailed biography does justice to all aspects of his multi-faceted achievements.
Brandeis University Press, 9781584652076, 480pp.
Publication Date: January 1, 2002
About the Author
PAWEL MACIEJKO is an associate professor of history and Leonard and Helen R. Stulman Chair in Classical Jewish Religion, Thought, and Culture at Johns Hopkins University. Between 2005 and 2016 he taught at the Department of Jewish Thought at the Hebrew University of Jerusalem. His first book, The Mixed Multitude: Jacob Frank and the Frankist Movement, 1755–1816, was awarded the Salo Baron Prize by the American Academy of Jewish Research and the Jordan Schnitzer Book Award by the Association for Jewish Studies. He also published a critical edition of Jonathan Eibeschütz's tract And I Came This Day unto the Fountain.