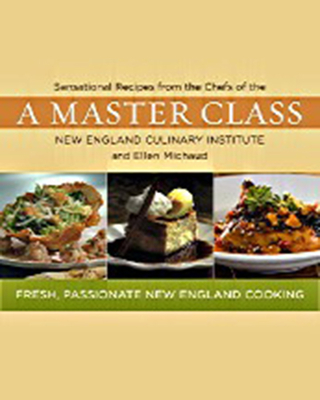 A Master Class: Fresh, Passionate New England Cooking (Hardcover)
Fresh, Passionate New England Cooking
University Press of New England, 9781584656807, 274pp.
Publication Date: October 31, 2008
* Individual store prices may vary.
or
Not Currently Available for Direct Purchase
Description
Winner of the Best Cookbook Award in the New England Book Festival (2008) A Master Class features over 200 luscious recipes created by the celebrated chefs of the New England Culinary Institute, converted for home use and presented along with suggestions for finishing touches, presentation, wine or beverage pairings, and chef's notes. As American consumers begin to understand the shortcomings of the nation's agricultural practices, NECI's chefs develop a magnificent cuisine that pays tribute to the farmer, the food, and the seasons. Ellen Michaud sums up the NECI cooking and dining philosophy: the key, she writes, is "fresh ingredients sustainably sourced and purchased in season from local sources. The less time from field to mouth, farm to mouth, or sea to mouth, the better. The flavors will be intense, subtle, unexpected, classic, and every gradation in between. And because they're grown with an eye toward making sure the source from which they came will be enriched rather than depleted by their cultivation, those same incredible flavors will be available during the next growing season and the next." From maple syrup and lamb dishes in the spring to piping hot apres-ski casseroles in the winter, A Master Class delivers the flavors, textures, colors, nourishment, and delights of cooking the NECI way. Color illustrations showcase many mouth-watering dishes that will tempt you into the kitchen and draw you and yours to the dinner table to savor "Tomato Fennel Salad," "Rack of Lamb with Aged Balsamic," "Shrimp in Spicy Carrot Sauce with Linguine," and, if you have any room left, "Caramel-Apple Tarte Tatin." Bon appetit.
About the Author
Contributors are the award-winning chefs of the NEW ENGLAND CULINARY INSTITUTE, including French Master Chef Michel LeBorgne, M.C.F., NECI's head of culinary affairs, and Gavin Kaysen, one of Food and Wine magazine's 2007 "Best New Chefs." Vermont author ELLEN MICHAUD has written for such magazines as Better Homes and Gardens, Readers' Digest, Prevention, and the New York Times.
Advertisement