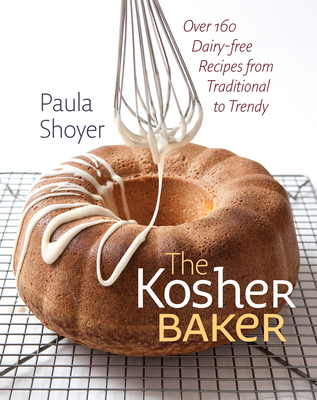 The Kosher Baker
Over 160 Dairy-free Recipes from Traditional to Trendy
Hardcover

* Individual store prices may vary.
Description
Producing flavorful and appealing kosher desserts has been a challenge in Jewish households throughout the ages. Without access to butter, cream, milk, cheese, yogurt, or other dairy products, creating a tasty and memorable dessert for family and friends requires more than simple substitutions and compromises. Now pastry chef and teacher Paula Shoyer provides the inspiration and innovation to turn the age-old challenges of parve baking into delectable delights in her one-of-a-kind kosher cookbook. The Kosher Baker is your indispensable kitchen companion to a wide range of dairy-free desserts, from family favorites and time-honored holiday classics to stylish and delicious surprises of Shoyer's own careful creation. It even includes desserts not usually found on a kosher table, such as creamy key lime pie, luscious flan, and rich tiramisu. You'll find everything from cookies, biscotti, breads and muffins to pastries, tarts, fancy cakes, and mousses. Shoyer guides you through more than 160 mouth-watering recipes and expands every non-dairy baker's repertoire with simple, clear instructions and a friendly yet authoritative voice. The Kosher Baker is organized as a tutorial into three primary sections—Quick and Elegant Desserts, Two Step Desserts, and Multiple Step Desserts—allowing the busy home baker to choose a dessert based on both taste and time constraints. The first section presents the fundamentals of simple kosher baking in the form of everyday treats like Amaretto Cookies, Orange Tea Cake, and Apple Pastry. The next two sections teach increasingly more challenging desserts, from a Challah Beer Bread Pudding with Caramel Sauce to Chocolate Babka. A special fourth section includes chapters on baking Challah, Passover desserts, and no-sugar-added desserts. The Kosher Baker has something for everyone in the Jewish household for any occasion or holiday. It spills over with detailed information, including tips on storage, freezing, and thawing; tools; must-have ingredients; and tips and techniques. Anyone baking for those with special dietary needs such as food allergies or diabetic concerns will also find recipes to love in this comprehensive collection. It even includes recipes for nut- and gluten-free desserts, and vegan desserts. No Jewish home should be without this essential cookbook!
Praise For The Kosher Baker: Over 160 Dairy-free Recipes from Traditional to Trendy…
"Outstanding . . . a can't-miss collection of classics."
 
— Publishers Weekly (starred review)

"What's especially good about the cookbook is that it's great for anyone who no longer consumes dairy but wants to bake and continue enjoying delicious baked goods. And with 25 eggless recipes, vegans can rejoice, too."


— Epicurious.com

"Paula Shoyer, author of The Kosher Baker, has developed quick, elegant desserts that are ready for the oven in 15 minutes and demand no fancy techniques."

 
— Jerusalem Post

"The Kosher Baker offers a wonderful range of recipes that will delight both new and experienced bakers. The book contains over 160 recipes, all of which are pareve (dairy-free), making them good options to serve after any kind of meal. . . . This book is a wonderful addition for the cookbook shelf for all community, public and synagogue libraries."


— American Jewish Libraries

"It's a terrific cookbook and the cinnamon bun recipe was a winner, and not too difficult to make."
 
— A Kitchen in Brooklyn

"Delectably delicious desserts (all pareve!) Plus: It's enhanced with gorgeous photos and a pleasing design."

 
— Chicago Jewish Star

"The book is an essential addition to the library of any pastry chef or home cook who want or needs to bake delicious (and moist) Kosher desserts."

— Dessert Professional

"A huge array of recipes for every taste, occasion, and dietary need. Bravo to Paula."
— Joan Nathan, New York Times food writer and author of award-winning cookbooks

 "A must-have for your kosher culinary library. Paula mixes great flavor combinations with great taste. You'll want to bake your way through the pages."


— Susie Fishbein, author of Kosher by Design

"The Kosher Baker is a fascinating look into the world of Jewish baking. While an incredible resource for those who eat kosher, it's equally compelling for anyone interested in a tempting array of sweets and breads, from fast-and-easy to elegant party fare. Two thumbs up!"
— P.J. Hamel, author, The King Arthur Flour Baker's Companion

"Paula Shoyer is a baker after my own heart. She takes you around her deceptively simple and luscious world of desserts, and busts the old myths that desserts take forever to make, or that they can't be good unless they have butter or cream in them. Paula understands perfectly that less is more, from short and sensible list of ingredients to streamlined instructions, pure extracts and flavors, and elegant and spare presentations. In short, her recipes are ideally suited for the home cook!"
— Levana Kirschenbaum, author of Levana's Table: Kosher Cooking for Everyone
Brandeis University Press, 9781584658351, 348pp.
Publication Date: August 17, 2010
About the Author
PAULA SHOYER is the owner of Paula's Parisian Pastries Cooking School in the Washington, D.C., area. She teaches classes in French pastry and Jewish cooking both locally and around the country. She received her pastry diploma from the Ritz Escoffier Ecole de Gastronomie Française in Paris in Paris in 1996 and is the editor of the popular Susie Fishbein cookbooks Kosher by Design Entertains and Kosher by Design Kids in the Kitchen.
or
Not Currently Available for Direct Purchase