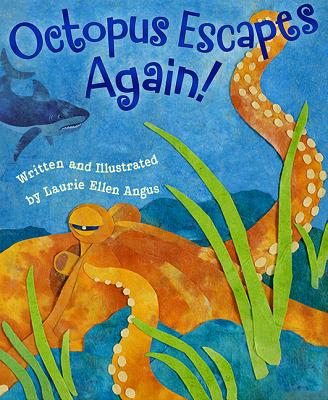 Octopus Escapes Again! (Paperback)
Dawn Publications (CA), 9781584695783, 32pp.
Publication Date: September 1, 2016
Other Editions of This Title:
Hardcover (9/1/2016)
* Individual store prices may vary.
Description
Inspire the future marine biologist in your life with this beautifully illustrated picture book about the octopus The perfect read-aloud for kids and adults, kids can follow along with the story of the brave octopus while parents can choose to read the fascinating, true facts italicized on each page. Backmatter includes real octopus facts, activities for kids, teachers and parents, and more
Swim along with Octopus as she leaves the safety of her den to search for food. Will she eat? Or will she be eaten?
Octopus is very hungry, but so many animals in the ocean are trying to eat her Follow along as she is able to outwit multiple dangerous enemies (including sharks, turtles, and eels) by using a dazzling display of defenses: Clouds of inkJet propulsionCamouflageAnd more
Backmatter Includes:
Explore More for Kids: an anatomy map of all of the parts of an octopus, and descriptions of all the ocean animals in the bookExplore More for Teachers & Parents: more detailed information on the anatomy of an octopus, a reading comprehension exercise, information and an activity on the ocean food chain, information on Octopus-inspired Engineering Design (biomimicry), and more