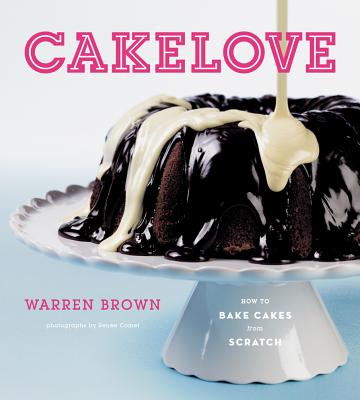 CakeLove (Hardcover)
How to Bake Cakes from Scratch
Stewart, Tabori & Chang, 9781584796626, 224pp.
Publication Date: May 1, 2008
* Individual store prices may vary.
Description
Warren Brown wants you to bake your cake and eat it too. And he wants you to conquer your fear of flour and learn to love every step of cake baking—including, of course, the step in which you present your made-from-scratch masterpiece to bedazzled, hungry-eyed family and friends. (Not to mention the moment when you yourself get to sample a slice of that lovingly crafted creation.)

For Brown, love and baking are inseparable. After all, he abandoned an unrewarding career in law to do the work—baking cakes!—that he finds truly emotionally satisfying. Every page of CakeLove communicates that satisfaction, as well as Brown's can-do approach to the art of baking. As he asserts, baking cakes isn't a cakewalk, but it's not rocket science, either—and getting it right isn't nearly as hard as you think.

Pound cakes, butter cakes, sponge cakes, cupcakes. Glazes, frostings, fillings, meringues. Brown provides all the basics on ingredients, equipment, and techniques, as well as recipes for more than 50 cakes that range from the classic (Chocolate Butter Cake) to the adventurous ("Sassy," a pound cake made with mango puree and cayenne pepper). The informative step-by-step shots make you want to run to the kitchen and start baking, and the scrumptious color photos of completed cakes look good enough to sink your teeth into.
About the Author
Warren Brown has a bachelor's degree from Brown University, and a J.D. and master's degree from The George Washington University. After establishing a career in health education and law, he realized his calling was in the kitchen and starting baking. In 2002 he opened his bakery, CakeLove, and LoveCafe followed in 2003. He lives in Washington, D.C.
Reneé Comet is a noted photographer who specializes in food and still-life photography. A cook herself, Comet has a particular passion for cookbooks and has photographed more than 30, including The Artful Pie and The Joy of Cooking. She is also a regular contributor to Vegetarian Times, Food Arts, and The Washington Post.