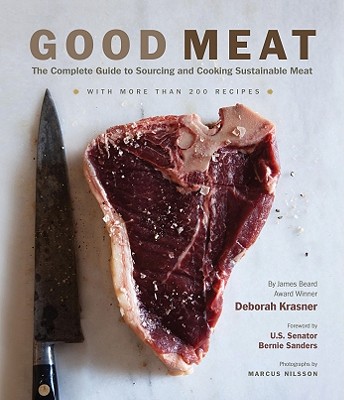 Good Meat: The Complete Guide to Sourcing and Cooking Sustainable Meat (Hardcover)
The Complete Guide to Sourcing and Cooking Sustainable Meat
Stewart, Tabori, & Chang, 9781584798637, 399pp.
Publication Date: September 1, 2010
* Individual store prices may vary.
or
Not Currently Available for Direct Purchase
Description
Good Meat is a comprehensive guide to sourcing and enjoying sustainable meat. With the rising popularity of the locavore and organic food movements--and the terms "grass fed" and "free range" commonly seen on menus and in grocery stores--people across the country are turning their attention to where their meat comes from. Whether for environmental reasons, health benefits, or the astounding difference in taste, consumers want to know that their meat was raised well. With more than 200 recipes for pork, beef, lamb, poultry, and game, stunning photos of delicious dishes, and tips on raising sustainable meat and buying from local farmers, Good Meat is sure to become the classic cooking resource of the sustainable meat movement. Praise for Good Meat: "Good Meat: The Complete Guide to Sourcing and Cooking Sustainable Meat belongs on the shelf of every carnivore out there. If you eat meat and if you raise animals for meat or if you have ever considered eating meat or eggs, you need a copy of Deborah Krasner's work of art. The thoughtful essays, equipment and seasonings chapters alone are worth the price of admission, but the anatomy lessons, cutting instructions and more than 200 recipes make the book a rare bargain indeed."
-Grit.com
"Deborah Krasner is part of a revolution in food, in agriculture, in nutrition, that is taking place in our nation. Her book is a fine contribution to that revolution, teaching us how to eat more healthfully, how to buy from local farmers, how to cook what they raise." --Senator Bernie Sanders, from the foreword "The healing local food movement's success hinges on artisanal farming and domestic culinary arts. Good Meat takes the mystery out of both in a masterful way, bringing all of us another giant step closer to healing the planet one bite at a time. Beautiful pictures and delightful explanations . . . Everyone interested in local, earth-friendly food will love this book." --Joel Salatin, owner of Polyface Farm "Good Meat is a template for all future cookbooks: one that educates on the culinary differences between factory-farmed meats and animals raised on family farms, and the utilization of the entire animal in a sustainable manner." --Patrick Martins, founder of Slow Food USA, Heritage Foods USA "Good Meat is the cookbook for all who have made the choice to eschew factory-farmed meat for grass-fed and pasture-raised meat. This book provides the knowledge to make sustainably raised meat a reality at your table." --Bruce Aidells, author of The Complete Meat Cookbook "If you want to cook delicious meals from humanely raised meat, Good Meat is for you. It offers superb recipes designed for grass-fed meat, and provides cooks with the first useful guide to ordering direct from the farm. This book makes you feel good about the meat you eat." --Paula Wolfert, author of Clay Pot Cooking
About the Author
Deborah Krasner is a writer and food professional living in Vermont. She hosts culinary vacations in Italy and Vermont, which have been featured in GQ, Bon Appetit, and the Boston Globe. Krasner won a James Beard Award in 2003 for her cookbook The Flavors of Olive Oil. She appears regularly on NPR's The Splendid Table and contributes to Bon Appetit and Real Simple, among other publications.
Advertisement