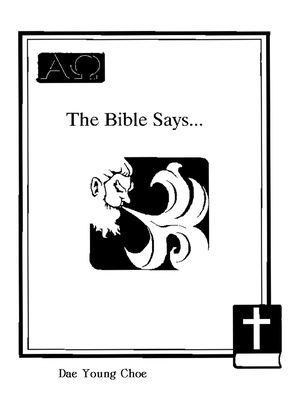 The Bible Says...
Paperback

* Individual store prices may vary.
Description
Most of us begins to read the bible trying to understand our creator God and find out the way to escape from this troublesome world while struggling to cope with this fast running modern society and survive. But, reading through the bible alone would take a year, and yet finding out what it says is still another story. So, many of us close the bible before flipping over several pages and come back to wandering again for the same reason of enormous amount of scriptures and the difficulty to understand.
Simply, we are trapped in this busy world of devil and the devil does not allow us to think about where we come from, where we go to and why we live in this world. That was stated in the bible as dead, saying 'And another of his disciples said unto him, Lord, suffer me first to go and bury my father. But Jesus said unto him, Follow me; and let the dead bury their dead. (Matthew8-22)'
As the result, we just go to church for self-relief and follow the instructions of the church for no reason and say we obey to God. Yet, still we do not know what God says. Leaving every teaching of religious people and traditional religious idea behind, I tried to hear from God directly through the bible based upon solid rock foundation of common sense that the truth never changes.
I did not hesitate to go to the extreme to stand on that foundation and I believe that extreme faith gave me understanding divine only God who is in extreme high place.
As the bible says, 'No one can come to Me, unless the Father who sent Me draws him: and I will raise him up on the last day. (John 6-44)', this book is not intended to draw people into belief but to guide God's people that are lost. In other words, it is only for Sons of God. It doesn't necessarily mean that my way is the best way. So anybody who knows the way should follow own way.
Authorhouse, 9781585007349, 172pp.
Publication Date: March 29, 2000
About the Author
The author, who is running a small engraving and printing business, was born in 1948 and came to America as immigration in 1984. He majored in Physics at college and attends a Korean Presbyterian Church in the suburbs of Washington D.C. Retired from NAVY as an officer, he says there were three people who affected him the most. Dr. Albert Einstein was the first one for the relativity theory, which was one of the reasons he majored in Physics at college. Ludwig Von Beethoven was the second one who helped him with his musical inspiration. Lastly, the third one is his wife Hyuk Mi who has been making his life for 20 years now. He has a pastor father-in-law and two pastor uncles and two other pastor brothers-in-law. Amongst this large Christian family, he naturally had a lot of chances to think about God. Yet, he could not understand the way of their Christianity and wanted to figure out what God really says. When he was doing nothing but reading the bible, his elderly mother told him 'You need to survive first to seek God.' That was when he was reading the following verses. He said, 'To you it has been given to know the secrets of the kingdom of God; but for others they are in parables, so that seeing they may not see, and hearing they may not understand. (Luke 8:10 ) And he said to his disciples, 'Therefore I tell you, do not be anxious about your life, what you shall eat, nor about your body, what you shall put on. For life is more than food, and the body more than clothing. Consider the ravens: they neither sow nor reap, they have neither storehouse nor barn, and yet God feeds them. Of how much more value are you than the birds! And which of you by being anxious can add a cubit to his span of life? If then you are not able to do as small a thing as that, why are you anxious about the rest? Consider the lilies, how they grow; they neither toil nor spin; yet I tell you, even Solomon in all his glory was not arrayed like one of these. But if God so clothes the grass which is alive in the field today and tomorrow is thrown into the oven, how much more will he clothe you, O men of little faith! And do not seek what you are to eat and what you are to drink, nor be of anxious mind. For all the nations of the world seek these things; and your Father knows that you need them. Instead, seek his kingdom, and these things shall be yours as well. 'Fear not, little flock, for it is your Father's good pleasure to give you the kingdom. (Luke 12:22) From this incident, his journey exploring the bible began and he realized the Satan is using death to hold people in this world. He says, 'Everybody seeks God in this world and when it comes to the limit of life, the death, they give up to seek God and come back to this world in fear of Satan and fails to find out God. The very moment you give up this world, you are entering the world of spirit.' He likes to play the piano. Beethoven's 'Moonlight Sonata' is his favorite piece.