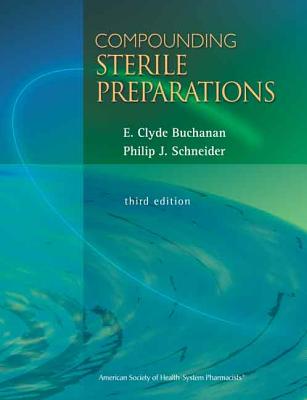 Compounding Sterile Preparations (Paperback)
American Society of Health-System Pharmacists, 9781585281794, 481pp.
Publication Date: March 1, 2009
* Individual store prices may vary.
Description
Empower your staff to improve safety, quality and compliance with the help of new guidelines and standards. We've updated every chapter of this popular review of the fundamentals of preparing sterile products in hospital, home-care, and community pharmacy settings to reflect the most recent revisions to USP .
Included are the latest guidelines for the compounding process, quality assurance methods, and comprehensive coverage of all aspects of the dispensing process. Comprehensive documentation for the guidelines is included in the appendices.Chapters new to this edition focus on:
Gap analysis and action plans Safe use of automatic compounding devices Cleaning and disinfecting Radiopharmaceuticals as CSPs Allergen extracts as CSPs.
About the Author
E. Clyde Buchanan, M.S., R.Ph. FASHP Clyde Buchanan is a pharmacy consultant and recognized expert on compounding sterile preparations and pharmacy planning, budgeting and operations. He is retired from Emory Healthcare in Atlanta where he was Senior Director of Pharmaceutical Services. Mr. Buchanan received his B.S. in Pharmacy from the University of North Carolina and M.S. and residency training from The Ohio State University. Prior to Emory, he held pharmacy leadership positions at Duke University Medical Center and St. John's Hospital in Springfield IL. Mr. Buchanan has served the American Society of Health-System Pharmacists (ASHP) as Chairman of SIG on Administrative Practice; Vice Chair of the Council on Legal and Public Affairs; member of the House of Delegates, several committees, and task forces. Mr. Buchanan has edited and authored four books on sterile compounding and numerous manuscripts and book chapters. He has been a frequent speaker for state and national conferences on USP Chapter . Philip J. Schneider, M.S., F.A.S.H.P. Philip J. Schneider is Clinical Professor and Associate Dean for Academic and Professional Affairs for the University of Arizona, College of Pharmacy at the Phoenix Biomedical campus. In this position, he provides oversight, development, and administration of educational initiatives including teaching, service and scholarship activities at the newly created Phoenix Biomedical Campus. He received a B.S. in Pharmacy from the University of Wisconsin, and M.S. in Hospital Pharmacy from The Ohio State University and received a Certificate of Residency from The Ohio State University Hospitals. During his 38 years of professional and academic service, he has published more than 170 articles and abstracts in professional and scientific journals, 38 book chapters, edited seven books and given more than 500 contributed or invited presentations in 22 countries and the US.
or
Not Currently Available for Direct Purchase