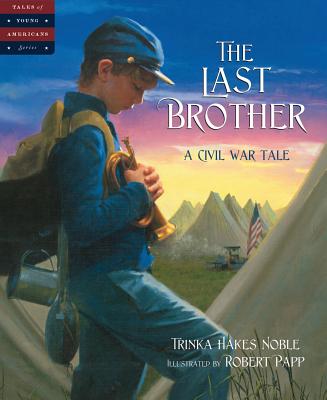 The Last Brother: A Civil War Tale (Hardcover)
A Civil War Tale
Sleeping Bear Press, 9781585362530, 48pp.
Publication Date: May 1, 2006
Description
In July 1863 the bloodiest battle of the Civil War was fought outside the sleepy Pennsylvania town of Gettysburg. In The Last Brother the story of one small boy is told amidst the dramatic events of those early days of July. Though he is only 11 years old, Gabe is a bugler in the Union Army. He takes his responsibility very seriously; after all, there are over 60 different battle calls for buglers to learn. But what is even more important to Gabe is watching over his older brother Davy who, as a foot soldier, is right in the thick of the fighting. Two of Gabe's older brothers have already perished, and he is not willing to lose the only one he has left. During those long days, Gabe meets another young bugler -- one who fights for the other side. Suddenly, what was so definite and clear has become complicated by friendship and compassion. Does one have to choose between service to country, to kin or to a friend? As the cannons fire and the battle rages on, Gabe must do his duty while searching for a way to honor all that he holds dear.
Advertisement