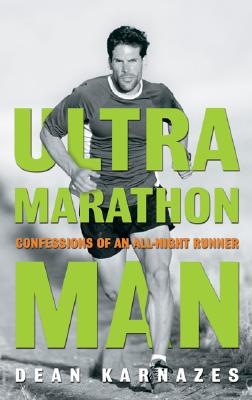 Ultramarathon Man
Hardcover

* Individual store prices may vary.
Other Editions of This Title:
Paperback (3/2/2006)
Description
In one of his most ambitious physical efforts to date, Dean Karnazes attempted to run 50 marathons, in 50 states, in 50 days to raise awareness of youth obesity and urge Americans of all fitness levels to "take that next step."
"UltraMarathon Man: 50 Marathons - 50 States - 50 Days," a Journeyfilm documentary, follows Dean's incredible step-by-step journey across the country.
There are those of us whose idea of the ultimate physical challenge is the 26.2-mile Boston Marathon. And then there is Dean Karnazes. Karnazes has run 226.2 miles nonstop; he has completed the 135-mile Badwater Ultramara-thon across Death Valley National Park-considered the world's toughest footrace-in 130-degree weather; and he is the only person to complete a marathon to the South Pole in running shoes (and probably the only person to eat an entire pizza and a whole cheesecake while running).
Karnazes is an ultramarathoner: a member of a small, elite, hard-core group of extreme athletes who race 50 miles, 100 miles, and longer. They can run forty-eight hours and more without sleep, barely pausing for food or water or even to use the bathroom. They can scale mountains, in brutally hot or cold weather, pushing their bodies, minds, and spirits well past what seems humanly possible.
"Ultramarathon Man" is Dean Karnazes's story: the mind-boggling adventures of his nonstop treks through the hell of Death Valley, the incomprehensible frigidity of the South Pole, and the breathtaking beauty of the mountains and canyons of the Sierra Nevada. Karnazes captures the euphoria and out-of-body highs of these adventures.
With an insight and candor rarely seen in sports memoirs, he also reveals how he merges the solitary, manic, self-absorbed life of hard-core ultrarunning with a full-time job, a wife, and two children, and how running has made him who he is today: a man with an uberjock's body, a teenager's energy, and a champion's wisdom.
Tarcher, 9781585422784, 288pp.
Publication Date: April 1, 2005
About the Author
Dean Karnazes, who was named one of the Top 10 Ultimate Athletes by Outside magazine, is president of EnergyWell Natural Foods in San Francisco.
or
Not Currently Available for Direct Purchase