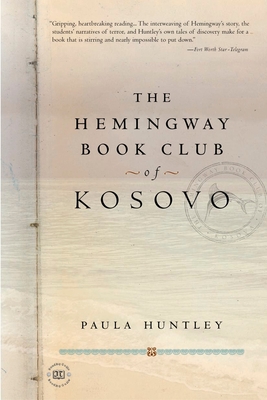 The Hemingway Book Club of Kosovo (Paperback)
Tarcher, 9781585422937, 255pp.
Publication Date: February 2, 2004
Description
A moving testimony to the power of literature to bring people together in even the most difficult of circumstances.
In the spring of 1999, the world watched as more than 800,000 Kosovo Albanians poured over Kosovo's borders, bringing with them stories of torture, rape, and massacre. One year later, Paula Huntley's husband signed on with the American Bar Association to help build a modern legal system in this broken country, and she reluctantly agreed to accompany him. Deeply uncertain as to how she might be of any service in a country that had seen such violence and hatred, Huntley found a position teaching English as a Second Language to a group of Kosovo Albanians in Prishtina.
A war story, a teacher's story, but most of all a story of hope, The Hemingway Book Club of Kosovo is the journal Hunt-ley kept in scattered notebooks or on her laptop over the eight months that she lived and worked in Kosovo. When Huntley asked her students if they would like to form an American-style "book club," they jumped at the idea. After stumbling upon a stray English-language copy of Ernest Hemingway's The Old Man and the Sea, Huntley proposed it as the club's first selection. The simple fable touched all the students deeply, and the club rapidly became a forum in which they could discuss both the terrors of their past and their dreams for the future.
The Hemingway Book Club of Kosovo is a compelling tribute to the resilience of the human spirit.
About the Author
Paula Huntley is the author of the book The Hemingway Book Club of Kosovo. The book started out as a journal Huntley kept while she and her husband, Ed Villmoare, lived in Kosovo for eight months between 2000-2001. The stories in Huntley's book tell of her ESL students' life under apartheid during the 1990s as well as how her students survived the atrocious brutalities of 1998-99. Booklist said the book is full of "beautiful, soul-searching passages (that) deserve to be embraced by the world."
Advertisement