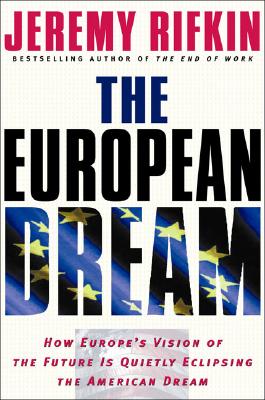 The European Dream (Hardcover)
Tarcher, 9781585423453, 448pp.
Publication Date: August 19, 2004
Other Editions of This Title:
Paperback (8/18/2005)
Paperback (10/4/2004)
* Individual store prices may vary.
Description
The American Dream is in decline. Americans are increasingly overworked, underpaid, and squeezed for time. But there is an alternative: the European Dream-a more leisurely, healthy, prosperous, and sustainable way of life. Europe's lifestyle is not only desirable, argues Jeremy Rifkin, but may be crucial to sustaining prosperity in the new era.

With the dawn of the European Union, Europe has become an economic superpower in its own right-its GDP now surpasses that of the United States. Europe has achieved newfound dominance not by single-mindedly driving up stock prices, expanding working hours, and pressing every household into a double- wage-earner conundrum. Instead, the New Europe relies on market networks that place cooperation above competition; promotes a new sense of citizenship that extols the well-being of the whole person and the community rather than the dominant individual; and recognizes the necessity of deep play and leisure to create a better, more productive, and healthier workforce.

From the medieval era to modernity, Rifkin delves deeply into the history of Europe, and eventually America, to show how the continent has succeeded in slowly and steadily developing a more adaptive, sensible way of working and living. In The European Dream, Rifkin posits a dawning truth that only the most jingoistic can ignore: Europe's flexible, communitarian model of society, business, and citizenship is better suited to the challenges of the twenty-first century. Indeed, the European Dream may come to define the new century as the American Dream defined the century now past.
About the Author
One of the most popular social thinkers of our time, Jeremy Rifkin is the bestselling author of "The European Dream," "The Hydrogen Economy," "The Age of Access," "The Biotech Century," and "The End of Work." A fellow at the Wharton School's Executive Education Program, he is president of The Foundation on Economic Trends in Bethesda, MD.
or
Not Currently Available for Direct Purchase