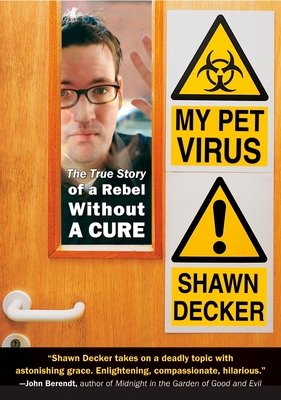 My Pet Virus
The True Story of a Rebel Without a Cure
Paperback

* Individual store prices may vary.
Description
Iwas destined for a life of medical drama from day one," begins this comic memoir with a mission. "I was born in the month of July, and my horoscope sign is a disease (Cancer). The symbol for Cancer? A crab (the sexually transmitted critter). Not only that, my parents named me Shawn Timothy Decker, which makes my initials S.T.D.

Shawn Decker isn't quite the All-American boy. Sure, he gets caught shoplifting copies of Penthouse; is crazy about prowrestling, especially "The Nature Boy" Ric Flair; and never has a problem getting dates. But he's also a hemophiliac who discovers, at age eleven, that he has contracted HIV from tainted blood products.

Instead of becoming self-pitying and dying (as first predicted), Shawn develops a twisted sense of humor, meets Depeche Mode through the Make-A-Wish Foundation, and writes on blogs and in Poz magazine about what it's like being hetero and HIV-positive in rural Virginia. He also turns to gay men for advice on dating women and, almost twenty years after getting HIV, marries Gwenn Barringer, who is HIV-negative and a former competitor for the title of Miss Virginia. Together Shawn and Gwenn travel the country, speaking to high school and college kids about how to live and love with HIV (and how to avoid getting it).
TarcherPerigee, 9781585425259, 256pp.
Publication Date: September 21, 2006
About the Author
Shawn Decker's life was shaped by medical adversity from day one. Despite being born with mild hemophilia, he enjoyed a pretty normal childhood that included baseball and neighborhood games of football with friends. Infected with HIV through the use of tainted blood products, Shawn was expelled from public school just after his HIV diagnosis at age 11. (He was eventually readmitted.)
For the next ten years, Shawn kept his HIV status to himself, barely talking to his parents or doctors and never mentioning his pet virus by name. In 1996, at age 20, a change of heart led to the creation of "My Pet Virus", a web site devoted to Shawn's favorite pastimes as well as a sounding board for his feeling about living with HIV. His humorous and informative take on life with HIV caught the eye of POZ Magazine, and Shawn was featured on the cover of the January 97 issue before being invited to write a column for the magazine.
At age 23, he met a fellow HIV educator, Gwenn Barringer- who is HIV negative. After they fell in love, friends encouraged them to speak together as a couple, and in 2000 they joined CAMPUSPEAK, a speaker's bureau specializing in health issues. Since 2000, Shawn and Gwenn have spoken to over 50,000 students on colleges campuses, traveling nationally to share how they keep Gwenn HIV negative in their program, "A Boy, A Girl, A Virus & The Relationship That Happened Anyway." In 2004, Shawn and Gwenn were married.
Together they've been featured on MTV, the BBC, CNN.com and have appeared in an HBO documentary as well as in Cosmopolitan. My Pet Virus is Shawn's first book.
or
Not Currently Available for Direct Purchase