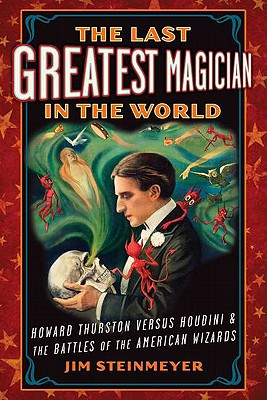 The Last Greatest Magician in the World (Hardcover)
Howard Thurston versus Houdini & the Battles of the American Wizards
Tarcher, 9781585428458, 384pp.
Publication Date: February 3, 2011
* Individual store prices may vary.
or
Not Currently Available for Direct Purchase
Description
Here is the seminal biography of the magician's magician, Howard Thurston, a man who surpassed Houdini in the eyes of showmen and fans and set the standard fro how stage magic is performed today.
Everyone knows Houdini-but who was Thurston? In this rich, vivid biography of the "greatest magician in the world," celebrated historian of stage magic Jim Steinmeyer captures the career and controversies of the wonder-worker extraordinaire, Howard Thurston.
The public's fickleness over magicians has left Thurston all but forgotten today. Yet Steinmeyer shows how his story is one of the most remarkable in show business. During his life, from 1869 to 1936, Thurston successfully navigated the most dramatic changes in entertainment-from street performances to sideshows to wagon tours through America's still-wild West to stage magic amid the glitter of grand theaters.
Thurston became one of America's most renowned vaudeville stars, boldly performing an act with just a handful of playing cards, and then had the foresight to leave vaudeville, expanding his show into an extravaganza with more than forty tons of apparatusand costumes. His touring production was an American institution for nearly thirty years, and Thurston earned a brand name equal to Ziegfeld or Ringling Brothers.
Steinmeyer explores the stage and psychological rivalry between Thurston and Houdini during the first decades of the twentieth century- a contest that Thurston won. He won with a bigger show, a more successful reputation, and the title of America's greatest magician. In "The Last Greatest Magician in the World," Thurston's magic show is revealed as the one that animates our collective memories.
About the Author
Jim Steinmeyer is the critically acclaimed author of "The Glorious Deception," "Charles Fort," and "Hiding the Elephant," a "Los Angeles Times" bestseller. He is also a leading designer of magic illusion who has done work for television, Broadway, and many of the best-known names in modern magic. He lives in Los Angeles, CA.
Praise For The Last Greatest Magician in the World: Howard Thurston versus Houdini & the Battles of the American Wizards…
"There is no greater expert on the history of stage magicians than Jim Steinmeyer. His deep knowledge of the subject, combined with a remarkable mastery of magical know-how, makes this book a smart, fantastic read. I can't recommend it enough!"
-Neil Patrick Harris

"Jim Steinmeyer knows the outside-in world of magic from the inside; he is a celebrated 'invisible man' - inventor, designer and creative brain behind many of the great stage magicians of the last quarter-century... Steinmeyer writes about events a century ago as vividly as if he had been there; and in a sense, he has been... No author has ever better conveyed the way the love of conjuring consumes a magician's life with magic's joys, terrors and longings."
-Teller (of Penn and Teller), The New York Times Book Review
Advertisement