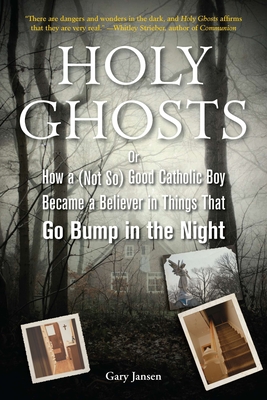 Holy Ghosts (Paperback)
Or, How a (Not So) Good Catholic Boy Became a Believer in Things That Go Bump in the Night
TarcherPerigee, 9781585428953, 224pp.
Publication Date: September 15, 2011
Other Editions of This Title:
Digital Audiobook (11/7/2010)
Hardcover (9/16/2010)
* Individual store prices may vary.
Description
In this remarkable true story, the haunting of a Long Island household forces a respected writer and editor to reevaluate the mysteries of life and death as he struggles with the frightening truths of his childhood home and his town's past. 

Growing up in Rockville Center, Long Island, Gary Jansen never believed in ghosts. His mother-a devoutly Catholic woman with a keen sense for the uncanny-claimed that their family house was haunted. But Jansen never found anything inexplicable in how their doorbell would sometimes ring of its own accord; or in the mysterious sounds of footsteps or breaking glass that occasionally would fill their home; or even in his mother's sometimes unsettlingly accurate visions of future events and tragedies. Though he once experienced a supernatural encounter in a Prague church as a young man, Jansen grew up into a rationalist, as well as a noted writer and editor. 

Decades later, in 2001, Jansen moved back into the very same house where he had once grown up to raise a family with his wife. One day in 2007, he encountered a strange physical sensation in his toddler son's bedroom: 

As I reached into his dresser drawer, I felt something very strange behind me. Startled, I quickly turned around, but there was nothing there. I shrugged it off, grabbed the socks and, as I was walking to the doorway, experienced an odd phenomenon-sort of like an electrical hand rubbing the length of my back. I stopped and stood transfixed. "What the hell is that?" I said to myself. The pressure then seemed to break apart and, for a brief moment, I felt like I had a million little bugs crawling all over my back. Within seconds, however, the sensation was gone. 

This became the first step in uncovering a frightening, fullblown haunting in his home-a phenomenon that lasted an entire year and eventually included unveiling the identities of the spirits who occupied his house; discovering the chilling story of a century-old murder in his hometown; encountering mind-boggling coincidences between local history and events in his own family; and finally engaging in a climactic exorcism with the help of Mary Ann Winkowski, the real-life inspiration for TV's The Ghost Whisperer. The events of that year-in which Jansen's family was terrified of and terrorized by ghosts in their own home-forever changed how he viewed the mysteries of life and death. 

Holy Ghosts is not only a gripping true-life ghost story but a funny and touching memoir, as well as a meditation on the relationship between religion and the paranormal, which are often considered at odds with each other but which the author shows are intimately linked.
About the Author
Gary Jansen is the director of Image Books and a senior editor at Penguin Random House where he has edited and published books by New York Times bestselling authors Pope Benedict XVI, Pope Francis, Deepak Chopra, Michael Singer, and Greg Kincaid. He is the author of The 15-Minute Prayer Solution; Station to Station; and the forthcoming book Life Everlasting (Tarcher Penguin, 2018). Paulo Coehlo, The New York Times bestselling author of The Alchemist, has called Jansen's work "Wonderful;" while legendary Newsweek Religion Editor Kenneth L. Woodward has called him, "A fine writer." A frequent lecturer, Jansen has been featured on NPR, The Huffington Post, CNN, Coast to Coast AM, A&E, the Sundance Channel, and has appeared numerous times on the Travel Channel's Mysteries at the Museum. His website is www.garyjansen.com.
Praise For Holy Ghosts: Or, How a (Not So) Good Catholic Boy Became a Believer in Things That Go Bump in the Night…
"
Holy Ghosts
took me into a completely convincing but very different version of reality from the one we live in. It serves as a forceful and fascinating reminder that we do not see the world that is, but only the part we have chosen to see. There are dangers and wonders in the dark, and
Holy Ghosts
affirms that they are very real."
-Whitley Strieber, author of Communion
"I have always believed in ghosts, paranormal phenomena, and miracles. But I've never read a book that tells of chills and ghosts in the house from a Catholic perspective. I read the book in a sitting. There are more than a few spine- tingling scares here, offered in such a benign, even life-affirming way, that we end up enlightened, entertained, and charmed."
-Beverly Donofrio, author of Looking for Mary and Riding in Cars with Boys
"Gary Jansen will both creep you out and educate you on the nature of 'earthbound spirits.' His tale of the spirits haunting his family home, and of helping them cross over to the next world, is a thrilling treat that I couldn't put down. Jansen tells the best kind of ghost story-the true kind!"
-Julia Scheeres, author of Jesus Land
"Gary Jansen's
Holy Ghosts
is a haunting memoir of both the paranormal and the heartbreakingly down-to-earth. By turns scholarly, comic, and creepy, Jansen shows us the ghosts in his house as well as his heart. Spellbinding and wise, this trip to the supernatural eventually returns us home, providing a deeper understanding of our faith, our fears, and the people we love."
Jennifer Finney Boylan, author of She's Not There and Falcon Quinn and the Black Mirror
"If you think ghosts might exist, you will thoroughly enjoy this startling personal account of things that go bump in the night. If you don't think they exist, do not read this book after midnight. You have been warned." 
-Dean Radin, author of Supernormal and The Conscious Universe
 "[A]n eerie, well-told ghost story." -Library Journal
"Holy Ghosts is more than just a gripping true story about ghosts haunting his family's home and how he got them to leave. I thoroughly enjoyed the fascinating history that Jansen, an editor at Doubleday Religion, incorporates into the story about the Catholic Church and its beliefs in spirits, angels, and demons...His writing style is engaging and informative; I couldn't stop reading.." -Publishers Weekly
or
Not Currently Available for Direct Purchase