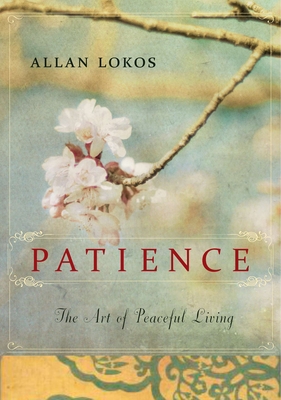 Patience
The Art of Peaceful Living
Paperback

* Individual store prices may vary.
Description
"As founder and guiding teacher of the Community Meditation Center in New York, Allan Lokos has an arsenal of tools for coping with stressful situations." - Rachel Lee Harris, New York Times
To survive the roller-coaster ride of life, with its ever-changing shifts from pleasure to pain, gain to loss, and praise to blame, requires a substantial depth of patience. In this life-changing book, Allan Lokos sheds new light on this much-sought-after state of mind, and provides a road map for cultivating greater patience in one's life.
According to Lokos, to develop a depth of patience we must first acknowledge the unhappiness caused by our impatience and anger in its many manifestations-from mild annoyance to rage. In this revelatory book, Lokos draws on his many years as a Buddhist practitioner and spiritual teacher, as well as interviews with a wide range of individuals who have had their patience tested-often dramatically so-and lays out a compelling path to the heart of patience."
Praise For Patience: The Art of Peaceful Living…
"Along with suggesting exercises and meditation practices for cultivating mindfulness and patience, Lokos offers testimonials from individuals who have enhanced their lives by learning patience. His laugh-out-loud chapter on raising children is a treasure. A great deal of the world's problems could be solved by taking Lokos's advice." — Susan DeGrane, Booklist

"This book, both practical and profound, is a wonderful demonstration of just how to bring patience and a new way of being right into our daily lives. It is filled with insight, warmth, and compassion." — Sharon Salzberg, author of Real Happiness and Lovingkindness

"Allan Lokos has a depth of experience that is woven throughout this fine book. He reaches with both mind and heart into the nature of patience. As Lewis and Clark mapped our way into the timeless beauty of the Northwest, Lokos is a very wise and human guide who breaks trail into the country of patience, marking all the sacred sites along the way and honoring all the sacred guides who have come before." — Mark Nepo, author of The Book of Awakening

"Down-to-earth, full of ways to become more patient in challenging situations at home and at work, this book helps you develop one of the most important of all virtues for fast-paced, stressful, and often frustrating life today." — Rick Hanson, Ph.D., author of Buddha's Brain

"In this gem of a book Allan Lokos invites us to attend to and practice what is perhaps the most overlooked of all spiritual qualities. Patience is an important read for everyone." — Andrew Olendzki, Ph.D., Senior Scholar, Barre Center

"Allan Lokos has written an essential and profound book that can change your life. Spiritual growth is not like fast food. It takes time for its roots to grow and that requires us to be receptive and patient. Patience delves into its vital subject with wisdom and compassion and offers us a path to our own higher self. Understanding the challenges of our hurried and harried world, Lokos has written a remarkable and practical guide to becoming a truly patient and spiritually effective person." — Rabbi Zalman Schachter-Shalomi, author of Jewish with Feeling

"Drawing on Buddhist teachings and his own deep wisdom, Allan Lokos reminds us of the peace and freedom that is possible when we cultivate genuine patience. The stories and exercises give practical guidance in coming home to an openhearted presence in the midst of difficulty. This book is a compelling and beautiful invitation to pause and arrive fully in our life." — Tara Brach, Ph.D., author of Radical Acceptance
TarcherPerigee, 9781585429004, 240pp.
Publication Date: January 5, 2012
About the Author
Allan Lokos is the founder and guiding teacher of the Community Meditation Center in New York City. A former professional singer who was in the original Broadway company of Oliver! among others, Lokos has published numerous articles and been a contributor to Tricycle magazine. He lives in New York City.
or
Not Currently Available for Direct Purchase