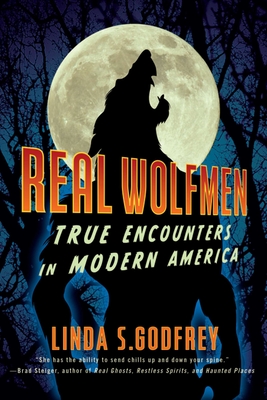 Real Wolfmen (Paperback)
True Encounters in Modern America
Tarcherperigee, 9781585429080, 334pp.
Publication Date: August 30, 2012
Description
What's hiding in the woods? Here is the definitive account of today's nationwide sightings of upright, canine creatures - which resemble traditional werewolves - and a thorough exploration of the nature and possible origins of the mysterious beast.
"She has the ability to send chills up and down your spine."
--Brad Steiger, author of Real Ghosts, Restless Spirits, and Haunted Places
"If you thought the likes of The Wolfman, The Twilight Saga: Eclipse, and Underworld had no basis in fact, it's time to think again " --Nick Redfern, author of There's Something in the Woods
"
Real Wolfmen
is a riveting work of amazing scope and depth. You'll be hooked from the first page."--Rosemary Ellen Guiley, author of The Encyclopedia of Vampires and Werewolves

The U.S. has been invaded - if many dozens of eyewitnesses are to be believed - by upright, canine creatures that look like traditional werewolves and act as if they own our woods, fields, and highways. Sightings from coast to coast dating back to the 1930s compel us to ask exactly what these beasts are, and what they want.
Researcher, author and newspaper reporter Linda S. Godfrey has been tracking the manwolf since the early 1990. In
Real Wolfmen
she presents the only large-scale cataloguing and investigation of reports of modern sightings of anomalous, upright canids. First-person accounts from Godfrey's witnesses - who have encountered these creatures everywhere from outside their car windows to face-to-face on a late night stroll - describe the same human-sized canines: They are able to walk upright and hold food in their paws, interact fearlessly with humans, and suddenly and mysteriously disappear. Godfrey explores the most compelling cases from the modern history of such sightings, along with the latest reports, and undertakes a thorough exploration of the nature and possible origins of the creature.
About the Author
Linda S. Godfrey is America's foremost authority on modern-day werewolves. She is the author of over a dozen books on werewolves, hauntings, and the paranormal, including the popular Weird Michigan. Godfrey has appeared on many national TV shows such as The History Channel's Monster Quest, Inside Edition, and Sean Hannity, and has been a guest on radio shows such as Coast to Coast AM, and Wisconsin and Michigan Public Radio.
Praise For Real Wolfmen: True Encounters in Modern America…
"Her chilling story of deep woods journeys will fascinate you."
—Whitley Strieber's Dreamland

"An amazing and well-researched look at werewolves in the US."
—Werewolves.com

"She has the ability to send chills up and down your spine."
—Brad Steiger, author of Real Ghosts, Restless Spirits, and Haunted Places

"Real Wolfmen is a riveting work of amazing scope and depth. You'll be hooked from the first page."
—Rosemary Ellen Guiley, author of The Encyclopedia of Vampires and Werewolves

"Godfrey impresses me with the sheer totality of her information.  Nothing is left unexplored, if possible."
—John R. Ellis, Fourth Day Universe

"If I was to ask you what two words are most relevant to the phenomenon of werewolves and lycanthropes you might well say "Full" and "Moon." Or, "Silver" and "Bullet." Well, you're definitely on the right track, but I say those two words are "Linda" and "Godfrey"! Yep, not only is Linda the most well-known chronicler of all-things wolfman-themed, but she's certainly the most prolific one, too. This new title from Linda is one that I definitely recommend to anyone and everyone who has voraciously devoured Linda's previous studies of the werewolf phenomenon. And if you're a newcomer to the subject, and want to learn what it's really all about, it's just about the most important book you can read on the phenomenon to date. And I don't write words like that lightly."
—Nick Redfern, Mysterious Universe

"By the time you finish Real Wolfmen: True Encounters in Modern America, you just might believe."
—Jason Carter, The Writers Journey

"It is hard to believe that such a creature could exist. However, the witness accounts in Real Wolfmen are often very compelling. Pick up a copy and see for yourself."
—Alejandro Rojas, Huffington Post


 
Advertisement