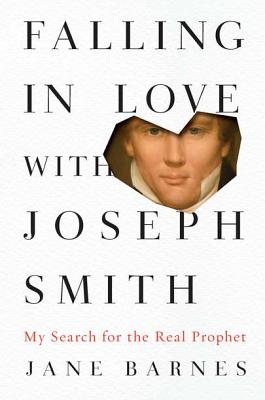 Falling in Love with Joseph Smith
My Search for the Real Prophet
Hardcover

* Individual store prices may vary.
Description
When award-winning documentary film writer Jane Barnes was working on the PBS Frontline/American Experience special series
The Mormons
, she was surprised to find herself passionately drawn to Joseph Smith. The product of an Episcopalian, WASPy family, she couldn t remember ever having met a Mormon before her work on the series much less having dallied with the idea of converting to a religion shrouded in controversy. But so it was: She was smitten with a man who claimed to have translated the word of God by peering into the dark of his hat.
In this brilliantly written book, Barnes describes her experiences working on the PBS series as she moved from secular curiosity to the brink of conversion to Mormonism. It all began when she came across Joseph Smith's early writings. She was delighted to discover how funny and utterly unique he was and how widely divergent his wild yet profound visions of God were from the Church of Latter-day Saints as we know it today. Her fascination deepened when, much to her surprise, she learned that her eighth cousin Anna Barnes converted to Mormonism in 1833. Through Anna, Barnes follows her family's close involvement with Smith and the crises caused by his controversial practice of polygamy. Barnes unlikely path helps her gain a newfound respect for the innovative American spirit that lies at the heart of Mormonism and for a religion that is, in many ways, still coming into its own.
An intimate portrait of the man behind one of America's fastest growing religions, Falling in Love with Joseph Smith offers a surprising and provocative window into the Mormon experience.
Praise For Falling in Love with Joseph Smith: My Search for the Real Prophet…
"Jane Barnes' startling, compelling book looks for treasure, much as the young Joseph Smith did, with the passion of a convert and the wild, sharp eye of someone determined to find it in the most unlikely places. This is a beautiful and utterly original book."--Sara Miles, author of Take This Bread and Jesus Freak "This is a balanced and intensely personal biography of Smith, as well as an arresting memoir of a spiritual leader."
--Publishers Weekly

"This is a book about faith and irony, but don't let the title fool you. Hold on to your hats, because you're going to be falling in love with Joseph Smith, too!"--Dennis Covington, author of the National Book Award finalist Salvation on Sand Mountain "Jane Barnes offers a rollicking, visionary, and deeply personal exploration of the magnetic legacy of Joseph Smith and what his story can teach us about our own deeply American hunger for transcendence.  In a moment when many Americans are realizing how little they know about Mormonism, Barnes shows us what non-Mormons can and should love about this uniquely American faith tradition."
--Joanna Brooks, author of The Book of Mormon Girl, associate professor, Department of English and Comparative Literature,
San Diego State University  "Jane Barnes' fascination with Joseph Smith is an inward journey, an account of one person's attempt to articulate and to answer difficult questions about the mysterious Joseph, a man who puzzles and eludes her. Falling in Love with Joseph Smith made me think of one of my favorite hybrid books, Annie Dillard's For the Time Being."--Ann Beattie, PEN/Malamud award-winning author, professor of Literature and Creative Writing, University of Virginia
Tarcher, 9781585429257, 294pp.
Publication Date: August 16, 2012
About the Author
JANE BARNES, who has received fellowships from the NEA, NEH, and the Virginia Foundation for the Humanities, has published two novels: I, Krupskaya: My Life with Lenin and Double Lives. Her essays and stories have appeared in MLLE, Mirabella, Prairie Schooner, Dialogue, and the Virginia Quarterly Review, among others. Barnes has written documentaries for American Experience, American Masters, and Frontline. She lives in Charlottesville, Virginia.
or
Not Currently Available for Direct Purchase