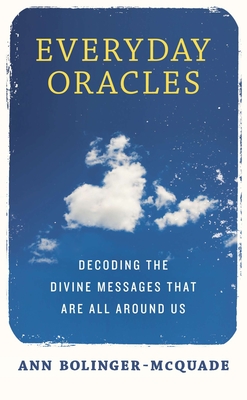 Everyday Oracles
Decoding the Divine Messages That Are All Around Us
Paperback

* Individual store prices may vary.
Other Editions of This Title:
Digital Audiobook (7/10/2013)
MP3 CD (7/11/2013)
Compact Disc (7/11/2013)
Description
It could be a cloud in the shape of a loved one's face or an extremely relevant song playing on the radio at the exact time of a friend's death--if we allow ourselves to stop, look, and listen, we can identify what spiritual teacher Ann Bolinger-McQuade calls personal oracles. And when we tune into these subtle messages from Spirit, we will discover guidance for navigating life's most trying situations.

In this illuminating book, readers will learn that the universe is constantly conspiring in our favor and is ready to lend a helping hand when we need it most--if only we can look closely and open our hearts to the divine messages that are on display around us. Sharing stories of divine inspiration from her own life, as well as the lives of others (many of them well-known historical or contemporary figures), McQuade shows readers how:

A PAIR OF SPARROWS SAVE A MAN'S LIFE: Journalist Byron Pitts narrowly escaped being hit by a car and saw a couple birds circling in front of him. The birds reminded him of the lyrics to his mother's favorite hymn: "His eye is on the sparrow, and I know He watches me." The comforting reminder of guidance and provision encouraged him to persevere in his challenging career in broadcast journalism, which was ultimately rewarded when CBS offered him a position on 60 Minutes.

A LITTLE BOY BRINGS HOPE BACK INTO A WOMAN'S LIFE: Nancy was reeling from her husband's recent diagnosis of AML, a rare form of leukemia, when a seven-year-old boy knocked at her door collecting donations for AML research. He smiled at her warmly as he told her how he had had AML since he was two, and then he announced proudly that a transplant had saved his life.

SIR ISAAC NEWTON'S APPLE WAS ACTUALLY AN EVERYDAY ORACLE: Many are familiar with the story of how Sir Isaac Newton first discovered gravity when an apple fell on his head. It is a lesser known fact that Newton was interested in the supernatural. Born in the 1600s, when astronomy and astology were considred one and the same, the highly respected alchemist looked to the heavens to assist him in his quest to decode the mysteries of the universe. The falling apple that arrested his attention acted as a personal oracle.

In addition to illuminating oracles through examples, McQuade discusses the history and science of oracles in general and of personal oracles specifically, offering the reader practical instructions for identifying and decoding the divine messages in their own lives.
Praise For Everyday Oracles: Decoding the Divine Messages That Are All Around Us…
"
Everyday Oracles
will leave you with a renewed faith in life's possibilities." 
—Lisa Hopper, author of In the Wake of a Dream
"In Everyday Oracles, Ann Bolinger-McQuade teaches us to look with new eyes at the miracles that surround us. This book is truly a gift—one to be read and passed on."  
—Donna Fontanarose Rabuck, Ph.D., Director, Center for the Sacred Feminine
"Life is an intimate embrace in which all things generously reveal their hidden goodness. In Everyday Oracles, Ann Bolinger-McQuade eagerly shares her experiences of life's awakened presence in its many signs, colors, and voices. It is a privilege to walk together on the path of her journey, and awaken to the power and gentleness of the mind with its dreams and visions. Take this walk and you will find beauty appearing all around you, and a new sense of discovery within." 
—Dr. David N. Russell, Ph.D., D.Sc., author of Healthy Solutions: A Guide to Simple Healing and Healthy Wisdom
"Ann Bolinger-McQuade is a divine messenger. Her book shows us the interconnectedness of all beings. She helps us find the magic of our personal oracles and shows us how to live happier, more inspired lives. A must read." 
—Tina Powers, psychic medium and author of Reporting for the Other Side
"Ann Bolinger-McQuade's book is so important because our culture has lost the ability to interpret personal oracles that can be seen and found everywhere, especially in nature. Everyday Oracles reminds us that we are part of a living world that speaks to us unceasingly, if we but learn to see and listen."  
—Lisa Thiel, visionary artist, singer, and songwriter
"If you found Everyday Oracles or it found you, then pick it up and read it. You will walk away with some kind of message that speaks to you." 
—Liza M. Wiemer, author of Extraordinary Guidance: How to Connect with Your Spiritual Guides
"Synchronicities and premonitions are part of our spiritual interconnectedness, and Ann Bolinger-McQuade describes in brilliant fashion how we can all attune ourselves to the spiritual life messages laid before us. The question is: Are you willing to hear the message?"  —Shawn A. Tassone, M.D., author of Spiritual Pregnancy: Nine Months of Spiritual Transformation Before You Give Birth
"Everyday Oracles connects on so many levels and, in the end, leaves you feeling positive and hopeful. It is more than the power of positive thinking. It is the power of love that is sustaining and renewing to the spirit, as food and drink are to the physical body. You are hard put not to seek such sustenance in your own life. Those who read this book will realize that the universe has indeed given them a gift." 
—Elizabeth K. Julian, J.D., former Regional Director, U.S. Department of Housing and Urban Development
"Here is a down-to-earth guide to leading a magical life." 
—Joan Wulfsohn, author of Stalking Carlos Castaneda
"Filled with inspiring, real-life stories of individuals who have had their eyes opened to the splendor of what Carl Jung called 'synchronicity.' . . . If you want to open your eyes, ears, heart, and mind to the many divine voices of Nature around you, this is a good place to start." 
—Allan J. Hamilton, M.D., author of The Scalpel and the Soul and Zen Mind, Zen Horse
"If you've been wanting to know more about messages from another realm but have been put off by the elaborate trappings surrounding many metaphysical systems, this is the book for you. Familiar, supportive, and positive in message, Everyday Oracles is written directly and in simple language. The power of the book comes from the personal anecdotes of people comforted, protected, and nurtured by loving presences which are closer than most of us realize."
—Anna Jedrziewski, InannaWorks.com
TarcherPerigee, 9781585429301, 288pp.
Publication Date: July 11, 2013
About the Author
Ann Bolinger-McQuade has always sensed the world as alive, nurturing, and filled with personal oracles -- concepts deeply seeded in her Native American ancestry. Before becoming a full-time writer in 1999, then a monthly columnist, regular radio show guest, lecturer, and workshop facilitator, she worked in advertising and sales, writing for a trade publication in the fashion industry and later owning a small business in California.

Personal oracles have been playing a major role in Ann's life for almost three decades. She fully recognized them after her diagnosis of breast cancer. They have guided and offered comfort to her as she dealt with the loss of her father, the passing of a close friend, and the death of a beloved animal companion. While Bolinger-McQuade struggled with each of these challenges, she ultimately was able to move forward with peace in her heart. Personal oracles continue to assist her on a daily basis. Ann has been part of the spiritual communities of Texas, Arizona, and New Mexico for the past three decades. Before his death in 2009, Native American Elder Richard Deertrack of the Taos Pueblo honored Ann in a sacred ceremony. Deertrack supported her vision to expand the consciousness of an interconnected universe through the awareness of personal oracles.

Ann divides her time between Tucson, AZ and Taos, NM with her husband, two dogs, and one cat, all of whom she adores.
or
Not Currently Available for Direct Purchase