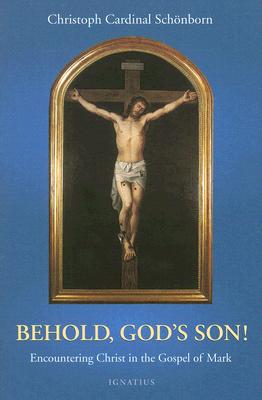 Behold, God's Son! (Paperback)
Reflections of the Gospel During the Year of Mark
Ignatius Press, 9781586171773, 238pp.
Publication Date: March 30, 2007
* Individual store prices may vary.
Description
Who is Jesus Christ? How can we really know Him? People have been asking that major question for 2,000 years. The best answers are found in the four Gospels, but how are they to be understood, and applied to our modern lives and faith?
Cardinal Schonborn, former student of Pope Benedict XVI and well-known as a brilliant theologian, presents his second volume of reflections on the person of Christ, this time as found in the Gospel of Mark. Sunday after Sunday, Cardinal Schonborn uses the Gospel readings from Mark to explain the beauty of the Gospel in clear and understandable words.
The Cardinal emphasizes that each of the four Gospels is unique and has its own unmistakable shape and approach. He says that no other Gospel writer talks in such a human way about Jesus as Mark. Anger and sorrow, Jesus' passionate emotional responses, are more explicitly mentioned in Mark than in the other Gospels. But however human Jesus may appear here, it is also Mark in particular who also strongly emphasizes his divinity. Believing in Jesus, having faith in him, is what Mark is all about.
About the Author
Cardinal Christoph Schoenborn, the Archbishop of Vienna, is a renowned spiritual teacher and writer. He was a student of Joseph Ratzinger (Pope Benedict XVI) and with him was co-editor of the monumental Catechism of the Catholic Church. He has authored numerous books including Jesus, the Divine Physician, Chance or Purpose?, Behold, God's Son, and Living the Catechism of the Catholic Church.
or
Not Currently Available for Direct Purchase