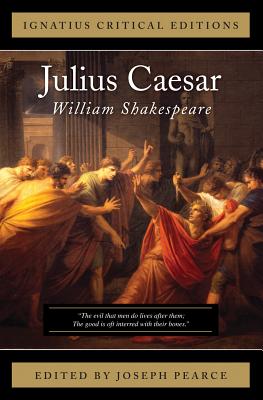 Julius Caesar (Paperback)
Ignatius Critical Editions
Ignatius Press, 9781586176167, 240pp.
Publication Date: May 1, 2012
Other Editions of This Title:
Paperback (4/1/2008)
* Individual store prices may vary.
Description
Though a staple in high school English classes, Julius Caesar is not a simple play. Seemingly irreconcilable forces are at work: fate and free will, the changeableness and stubbornness of ambitious men, the demands of public service and the desire for private gain. Drawn from history as recorded by Plutarch, the major characters-Caesar, Brutus, Cassius, and Mark Antony-are complex, as are the twists and turns of their fortunes. What kind of man rises to power? What price does he pay when he becomes a politician? These questions raised by Shakespeare are relevant in every age, whether ancient Rome, Elizabethan England, or even in our own day.
About the Author
Joseph Pearce, director of the Aquinas Center for Faith and Culture at Aquinas College in Nashville, is the author of three books on Shakespeare, all published by Ignatius Press, and is the editor of the Ignatius Critical Editions of Romeo and Juliet, The Merchant of Venice, Julius Caesar, Hamlet, King Lear, and Macbeth. He is editor of the St. Austin Review (or StAR), a magazine of Christian culture and tradition published by St. Augustine's Press.
Popularly known as the 'Bard of Avon', English playwright, poet, and actor William Shakespeare was baptised on 26 April 1564. Not much is known about his date of birth or his formal education. Born and brought up in Stratford-upon-Avon, he moved to London at age 21, where he wrote and acted in plays like Hamlet and As You Like It for the theatre group 'The King's Men'. Shakespeare, who died on 23 April 1616, gave the English language its most beautiful figures of speech, allegories, and images.