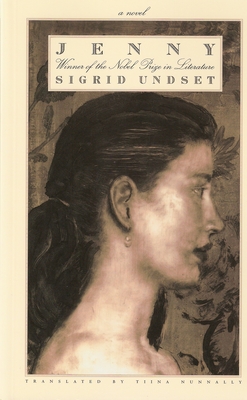 Jenny (Paperback)
Steerforth, 9781586420505, 330pp.
Publication Date: June 1, 1998
Other Editions of This Title:
Paperback (4/7/2020)
* Individual store prices may vary.
Description
When Jenny was published in 1911, Undset found herself called immoral — "this is a side of the free, artistic life that the vast majority of citizens would rather not know." The novel tells the story of Jenny Winge, a talented Norwegian painter who goes to Rome to seek artistic inspiration but ultimately betrays her own ambitions and ideals. After falling into an affair with the married father of a would-be suitor, Jenny has a baby out-of- wedlock and decides to raise the child on her own. Undset' s portrayal of a woman struggling toward independence and fulfillment is written with an unflinching, clear-eyed honesty that renders her story as compelling today as it was nearly a century ago.

This new translation by Tiina Nunnally captures the fresh, vivid style of Undset's writing and restores passages omitted from the only previous edition to appear in English, which was published in 1921. Most famous for her later, historical fiction set in Catholic, medieval Scandinavia, Undset stands revealed with Jenny, her first major novel, as an unsparing, compassionate, magnificent realist, the creator of works that are at once thoroughly modern and of enduring interest.
About the Author
Sigrid Undset won the Nobel Prize for Literature in 1928. Her early novels portrayed modern women "sympathetically but with merciless truthfulness"; her later works, including the internationally bestselling Kristin Lavransdatter trilogy, contained "powerful pictures of Northern life in medieval times."
Tiina Nunnally won the 2001 pen/Book-of-the-Month Club Translation Prize for her translation of the Penguin Classics Kristin Lavransdatter trilogy. She lives in Seattle.
Praise For Jenny…
"[Undset] was an uncommonly fine writer of fiction."-- The New York Times Book Review

"Jenny is a stunningly atmospheric yet frank and searching drama about a young woman painter struggling to reconcile her need to make art with her longing for and fear of love. This brooding book can stand with the best of the moderns."-- Booklist