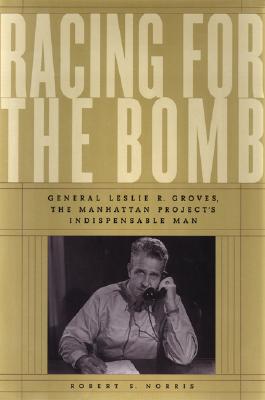 Racing for the Bomb
General Leslie R. Groves, the Manhattan Project's Indispensable Man
Paperback

* Individual store prices may vary.
Other Editions of This Title:
Paperback (10/21/2014)
Description
COLONEL LESLIE R. GROVES was a career officer in the Army Corps of Engineers, fresh from overseeing hundreds of military construction projects, including the Pentagon, when he was given the job in September 1942 of building the atomic bomb. In this full-scale biography Norris places Groves at the center of the amazing Manhattan Project story.
Norris contributes much in the way of new information and vital insights to our understanding of how the bomb got built and how the decision was made to drop it on a large population center. Richard Rhodes, author of The Making of the Atomic Bomb, writes, "The brilliant engineer who commanded [the Manhattan Project] has never had his due. Groves finally emerges as the historic, tough, larger-than-life leader who made the atomic bomb happen and gave shape to the atomic age." Groves's hard work and numerous innovations during World War II also had a lasting imprint on the Cold War that followed. Procedures and practices developed during the Manhattan Project became the building blocks of the "national security state" and the "military-industrial complex."
"I had always thought of General Leslie Groves as a fringe character in the story of the atomic bomb," says Seymour Hersh, "a military martinet widely ridiculed by the nuclear physicists. Norris has rewritten the history of the most important event of World War II and in so doing has given us the best account yet of the military colossus that built America's first nuclear bombs."
Steerforth, 9781586420673, 752pp.
Publication Date: March 10, 2003
or
Not Currently Available for Direct Purchase