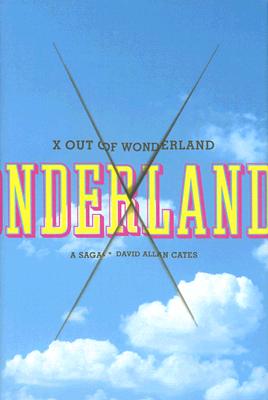 X Out of Wonderland (Hardcover)
A Saga
Steerforth, 9781586420956, 152pp.
Publication Date: September 13, 2005
* Individual store prices may vary.
Description
X Out of Wonderland is a farce, modeled after Candide, that takes on the Global Free Market and just about every other aspect of contemporary life. Outrageous and poignant by turns, X is a satire with heart, and an intense and funny reading experience.
X, the novel's decent and brave protagonist, maintains his optimistic pursuit of love and The Good Life even as a string of catastrophies brutalize him through a series of misadventures that take him around the world. While pointing up the absurdities of our own times, X Out of Wonderland also shows clearly the universal predicament of all humans in all cultures in all times: the need to find meaning and dignity in our lives despite the certainty of death and suffering. The story makes clear that despite our folly, we've got a few things going for us: faith, hope, love, and the capacity to endure.
Praise For X Out of Wonderland: A Saga…
"Satire can be heartfelt, and this slim modern saga descended from Lewis Carroll and Jonathan Swift, among others, speaks as kindly as it does bitingly about the cruel vagaries that bedevil the lives of the residents of Wonderland, a country eerily reminiscent of our own."
— The Montanan

"Despite the book's slender length, Cates packs in quite a story . . . making Wonderland read like a Kafkaesque rendition of George Orwell's 1984."
— Willamette Week

"A pitch-perfect satirical novel that's both fun and wrenching."
— The Missoulian

"This short novel is at once a swipe at capitalism run amok, a brilliant narrative of one man's optimism in the face of misfortune and an example of how a writer can take on big themes without overlooking fiction's obligation to offer compelling characters."
— The Kansas City Star

"Cates has created a world as cruel and destructive as it is funny. Absurd and enduring, X Out of Wonderland does indeed imagine all our contradictions and incompatibilities, yet X in his earnest faith also allows us to imagine our capacity for patience and joy."
— Missoula Independent

". . . buoyant, insightful prose. This is humor that stings a little, and the author's observations are funny and fine-tuned throughout."
— The Believer

"A biting satire of modern capitalism . . . Cates delivers a caustic but never cynical take on what he sees as the demoralizing fatalism implicit in today's market-mad ideology."
— Publishers Weekly

"Cates' world is futuristic in tone yet based on our very own world today, in a witty, skillful, amusing — and unrelentingly clear-eyed — satire."
— Kirkus

"If Lewis Carroll covered international trade for the Wall Street Journal, if Lemony Snicket wrote an expose of the World Trade Organization, if Swift replaced Rukheyser on Wall $treet Week and de Saint-Exupery's Little Prince replaced Lou Dobbs on Moneyline, the result would not be stranger or more fun to read than David Cates's send-up of 'free trade.' This twenty-first-century fable of international commerce packs the creepily comic truth-telling of the nineteenth-centurys finest satirists."
— David James Duncan, author of The Brothers K

"X Out of Wonderland is an amazingly cheerful and inventive piece, written with a Mozartian ease, grace, and flourish. Cates writes suppressing a smile on his face, but one will appear on yours as you read this tale."
— Josip Novakovich, author of April Fool's Day

"In X Out of Wonderland, God speaks but doesn't give away any secrets. This is Candide in Kafka-land, David Cates' stunning modernist take on our culture (the glories of the Global Free Market), along with his intimate regard for folks enduring their condition while loving one another anyway. Just brilliant."
— William Kittredge, author of Who Owns the West?

"It takes a brave writer to tackle all of it — the complete and crushing madness of our time. It takes an extraordinarily talented writer to succeed. X Out of Wonderland is a smart bomb guided by a laser wit."
— Richard Manning, author of Against the Grain: How Agriculture Hijacked Civilization

"David Cates uses lilting, wide-eyed language to describe a pilgrim's wanderings through a world so terrifying in its priorities that it might even be our own. The result is a darkly beautiful tale, sly and grief-stricken, funny and enraged."
— Deirdre Mcnamer, author of My Russian
or
Not Currently Available for Direct Purchase