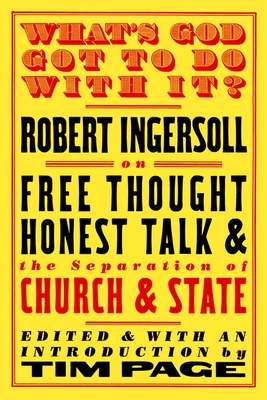 What's God Got to Do with It?
Robert Ingersoll on Free Thought, Honest Talk and the Separation of Church and State
Paperback

* Individual store prices may vary.
Description
Robert Ingersoll (1833—1899) is one of the great lost figures in United States history, all but forgotten at just the time America needs him most. An outspoken and unapologetic agnostic, fervent champion of the separation of church and state, and tireless advocate of the rights of women and African Americans, he drew enormous audiences in the late nineteenth century with his lectures on "freethought." His admirers included Mark Twain and Thomas A. Edison, who said Ingersoll had "all the attributes of a perfect man" and went so far as to make an early recording of Ingersoll's voice.
The publication of What's God Got to Do with It? will return Robert Ingersoll and his ideas to American political discourse. Edited and with a biographical introduction by Pulitzer Prize winner Tim Page, this new popular collection of Ingersoll's thought – distilled from the twelve-volume set of his works, his copious letters, and various newspaper interviews – promises to put Ingersoll back where he belongs, in the forefront of independent American thought.
Praise For What's God Got to Do with It?: Robert Ingersoll on Free Thought, Honest Talk and the Separation of Church and State…
Ingersoll "is a critical figure in the struggle for true freedom of conscience in America -- meaning the freedom not to worship any god as well as to worship God in one's own way . . . Ingersoll did more than anyone to restore Americans' memory of their country's secular and rationalist tradition." -- Susan Jacoby in Freethinkers

"In this collection of short excerpts . . . the patron saint of free thought celebrates human reason and decries the influence of blind faith. Opponents of the Kansas Board of Education, federal funding for church social programs and faith-based restrictions on medical research will find here the inspiration to keep fighting." — Washington Post
"Ingersoll's ideas force a reader to reexamine the words freedom, liberty, truth and democracy. This little paperback has the pleasant feeling of a morning spent listening to a lecture or sermon on a small-town green." — Los Angeles Times
Steerforth, 9781586420963, 144pp.
Publication Date: August 16, 2005
About the Author
Tim Page is the Pulitzer Prize—winning chief music critic for the Washington Post. He is the author of Dawn Powell: A Biography and editor of The Diaries of Dawn Powell (Steerforth Press, 1995) and Selected Letters of Dawn Powell.
or
Not Currently Available for Direct Purchase