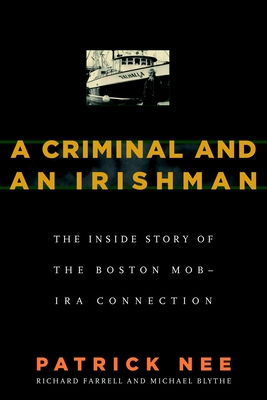 A Criminal and An Irishman (Paperback)
The Inside Story of the Boston Mob - IRA Connection
Steerforth, 9781586421229, 232pp.
Publication Date: March 27, 2007
Other Editions of This Title:
Hardcover (3/14/2006)
* Individual store prices may vary.
Description
Former rival and associate of James "Whitey" Bulger tells all. After returning from Vietnam where he served as a combat Marine, Pat Nee fought a gang war against Whitey Bulger. When members of Nee's Mullen gang killed the leader of Bulger's Killeen faction, Nee arranged for the dispute to be mediated by Howie Winter and Patriarca crime family captain Joseph Russo. The two gangs joined forces, with Winter as overall boss. When Winter was convicted of fixing horse races in 1979, Bulger became leader, and Nee responded by concentrating his energy on raising money and smuggling guns to the Provisional IRA. Disgusted by Bulger's brutality, and increasingly focused on the Irish cause, Nee distanced himself from his former ally. Ultimately it was revealed that, for years, Bulger had served as an FBI informant. 

A Criminal and an Irishman is the story of Pat Nee's life as an Irish immigrant and Southie son, a Marine, a convicted IRA gun smuggler, and a former violent rival and then associate of James "Whitey" Bulger. His narrative transports the reader into the criminal underworld, inside planning and preparation for an armored car heist, inside gang wars and revenge killings. Nee details his evolution from tough street kid to armed robber to dangerous potential killer, and discloses for the first time how he used his underworld connections and know-how as a secret, Boston-based operative for the Irish Republican Army. For years Pat smuggled weapons and money from the United States to Ireland – in the bottoms of coffins, behind false panels of vans – leading up to a transatlantic shipment of seven and a half tons of munitions aboard the fishing trawler Valhalla. No other Southie underworld figure can match Pat's reputation for resolve and authenticity.
About the Author
At fourteen Patrick Nee became associated with the gang that would later battle Whitey Bulger for rights to Southie's criminal activities. A Marine veteran of Vietnam, Pat helped the Irish Republican Army smuggle money, guns, and munitions out of the United States. He served nearly two years in prison for the Valhalla smuggling operation, received early parole, then promptly attempted to rob an armored car in order to raise funds for the IRA. He served nine years for this later conviction, and today he works as a day laborer and spends time with his two daughters and grandchildren. He lives in South Boston.
Richard Farrell won the du Pont—Columbia Award for Excellence in Broadcast Journalism for his film High on Crack Street. He covered the war in Bosnia, has directed several award-winning films, and has written articles for the Boston Globe and numerous other publications. He lives in southern New Hampshire.
Praise For A Criminal and An Irishman: The Inside Story of the Boston Mob - IRA Connection…
"A profane, often brutal memoir . . . Nee maintained an uneasy alliance with [Whitey] Bulger while persuing his personal cause -- raising money and smuggling weapons for the Irish Republican Army." — The Boston Herald

"Nee commits some horrible crimes, from attempted murder to armed robbery. Yet even as he chases someone with a rifle through South Boston, he's the sort of guy you want to root for." — The Lawrence Eagle-Tribune