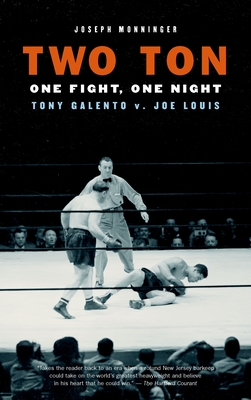 Two Ton (Paperback)
One Night, One Fight: Tony Galento v. Joe Louis
Steerforth Press, 9781586421380, 208pp.
Publication Date: November 6, 2007
* Individual store prices may vary.
Description
Beetle-browed, nearly bald, with a head that rode his collarbones like a bowling ball returning on rails, his waist size more than half his five-foot, eight-inch height, Two Ton Tony Galento resembled, according to Collier magazine writer Jack Miley, "a taxi driving away with its top down." By all measures he stood no chance when he stepped into the ring against the Brown Bomber, Joe Louis, the finest heavyweight of his generation. But in Yankee Stadium on a June night in 1939 he entered the record books as one of the few men to put the great Louis down. For two splendid seconds he stood on the mat as the Joe Louis lay before him, champ of the world, the toughest man alive, the mythical hero of a nation little more than a year away from war. "I'll moida da bum," he had predicted. And though Louis was no bum, Galento was almost as good as his word.
About the Author
Joseph Monninger is the author of eight novels and two memoirs. He has written for Sports Illustrated, American Heritage, Scientific American, and the Boston Globe. He is a two-time recipient of fellowships from the National Endowment for the Arts. He lives in New Hampshire.
Praise For Two Ton: One Night, One Fight: Tony Galento v. Joe Louis…
"Two Ton takes the reader back to an era when a rotund New Jersey barkeep could take on the world's greatest heavyweight and believe in his heart that he could win." – The Hartford Courant
"If one didn't know any better, they would think that the author actually lived during those times. . . . Monninger glowingly, vividly, and inspiringly recounts that 'a moment, and an era remind us that sometimes it is through effort, exceeding expectations and beating the odds, that people can most enduringly define themselves.' This wonderful book will exceed any reader's expectations."– The Sweet Science
"Spot-on descriptions, deftly drawn characters, sharp insights into human nature, and most of all, a master's sense of plot and structure." – The Nashua Telegram
"Boxing's battles have occasioned some of the best writing any sport has ever inspired. Two Ton stands beside the work of such masters as W.C. Heinz on the shelf devoted to the most dangerous of games." – Bill Littlefield, host, NPR's Only a Game
or
Not Currently Available for Direct Purchase