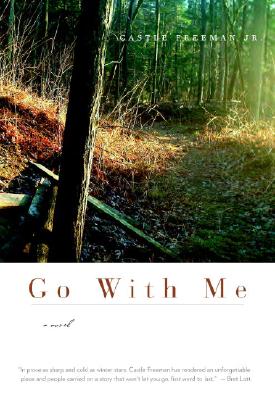 Go With Me (Hardcover)
Steerforth, 9781586421397, 176pp.
Publication Date: January 15, 2008
* Individual store prices may vary.
Description
The Vermont hill country is the stark, vivid setting for this gripping and entertaining story of bold determination. The local villain, Blackway, is making life hellish for Lillian, a young woman from parts elsewhere. Her boyfriend has fled the state in fear, and local law enforcement can do nothing to protect her. She resolves, however, to stand her ground, and to fight back. A pair of unlikely allies – Lester, a crafty old-timer, and Nate, a powerful but naive youth – join her cause, understanding that there is no point in taking up the challenge unless you're willing to "go through." In this modern-day drama, a kind of Greek chorus – wry, witty, digressive; obsessively, amusingly reminiscent; skeptical, opinionated, and not always entirely sober – enriches the telling of this unforgettable tale as the reader follows the threesome's progress on their dangerous, suspenseful quest.
About the Author
Castle Freeman Jr. is the award-winning author of five other books, including his most recent novel (2009) "All That I Have." He has been a regular essayist for "The Old Farmer's Almanac" since 1982, and lives in Newfane, Vermont.
Praise For Go With Me…
"Freeman's sentences have been honed to rhythmic perfection in a way reminiscent of Cormac McCarthy —yes, a high compliment, but one that's well-deserved. What McCarthy has done for the dusty plains of the Southwest, Freeman, a resident of Newfane, Vt., does here for the Green Mountains. At a taut, 160 pages, Go With Me is at once wry, primal, epic and impossible to put down." — Charles Bock, author of Beautiful Children on NPR's All Things Considered

"If I had to select one book from 2008 to give a stranger boarding a plane, it would be Castle Freeman Jr.'s Go With Me. That wry, slim, beautifully made novel has everything a passenger might need to erase the toothpaste-tube claustrophobia of modern air travel: a taut mystery set in backwoods Vermont, a funny chorus of good ol' boys, a terrifying villain and the satisfying hint of a nascent love story." — Cleveland Plain Dealer Book Review Editor Karen Long on the publication of the paperback edition of Go With Me.

"Tense and funny, "Go With Me" glides on pitch-perfect dialogue and a humdinger finale." — The Cleveland Plain Dealer (Ten Books to Give for the Holidays)

"A noirish nail biter set in the Vermont backwoods, Castle Freeman Jr.'s novel takes place over the course of one very long summer day... The dialogue-driven action is direct, the flashes of humor dark, and Freeman rubs in grit. Freeman writes in the tradition of Flannery O'Connor, James M. Cain, and Jim Thompson, and he packs a punch." — Vermont Life magazine

"A gripping, taut tale of suspense . . . a spare, tense novel set within the desolation and desperation of the Vermont woods. . . . That things will eventually turn violent is a given. Even before a punch is thrown or a shot is fired, the dread is as thick as maple syrup. Freeman, a perceptive, enticing writer, isn't bloodthirsty. When violence erupts, it's sharp and succinct. Still, this isn't some heady novel about violence or its various consequences. It's about an America - insular and self-defined - that exists beyond the media's gaze. These are hard people, but they're also infused with humor, humanity, and a sense of right and wrong. . . . Go With Me is a gem that sparkles with sly insight and cuts like a knife." — The Boston Globe

"Castle Freeman Jr. packs more story into 160 pages than more famous authors could fit into twice as many. . . Go With Me is a dialogue-driven, take-the-law-into-your-own-hands story that is slick with humor and musings on pop culture, aging and American women. The engaging characters are pressed to the limits of their courage and creativity in their fight for justice. Scenes in which the young, determined Lillian, the aged, cunning Lester and the brave and beefy Nate confront the bad guys have a mythical and heroic quality." — USA Today

"There is a clear moral arc to this storyline, and suspense too. But Go With Me is also a literary novel, with echoes of Deliverance and Cormac McCarthy." — The Wall Street Journal

"One of the smartest novels we've read in a long time." — Time Out Chicago

"This nimble thriller is the literary equivalent of a fierce bantamweight fighter: Short but muscular and lightning quick, it packs a surprising punch . . . Freeman has a flawless ear for dialogue and a sharp eye for quirky detail . . . Superb." — People Magazine (Critic's Choice)

An "elegant little thriller about cunning versus cruelty, set in a rural Vermont town that time forgot. . . . extremely funny . . . pure delight . . . thanks to Freeman's streamlined storytelling, dead-on dialogue, and lyrical descriptions of the bleak, woodsy landscape. This is a meticulous New England miniature, with not a word wasted." — O Magazine

". . . loose and funny and, at a few key junctures, righteously bloody. The book takes just a few hours to read — about the running time of the swell indie movie someone should make from this offbeat charmer." — Entertainment Weekly

"Freeman's ear is flawless. The dialogue is taut, funny, wise, poignant, deceptively simple and only on occasion profane. . . . The description is astute and often beautiful." — The Times-Argus (VT)

"Chivalry isn't dead; it has just retreated to the backwoods of Vermont. . . . But this isn't the quaint Vermont of maple syrup and romantic ski weekends. . . . Freeman knows just how to mingle the dark legends of this place with the violent reality of small-town crime. . . . Freeman has a lot of fun with these good ol' boys. . . . 'They don't change,' [he] writes. 'Time doesn't pass for them.' You could say the same for good storytelling like this." — Washington Post Bookworld

"Like its young heroine, Lillian, Freeman's trim powerhouse is 'a pistol'.... Freeman's beautifully cadenced dialogue is rich with humor, philosophic depth and a near-mythic sensibility." — Publishers Weekly

"A small masterpiece of black comedy and suspense about a trio of backwoods heroes who embark upon a modern-day quest.... If all novels were this good, Americans would read more." — Kirkus Reviews (starred)

"This gem of a novel by Vermont author Freeman may bring him the larger audience he so richly deserves. . . . Freeman turns this fablelike story into a surprisingly suspenseful showdown. And the artful cutaways to the old-timers' priceless, extremely funny conversations add another level of richness to the tale." — Booklist

"Go With Me is a terrifying and darkly funny mystery ride through the cold and foreboding New England woods. In prose as sharp and cold as winter stars, Castle Freeman has rendered an unforgettable place and people carried on a story that won't let you go, first word to last. His D. B., Coop, and Whizzer are characters I don't think I will ever forget." — Bret Lott

"Go with Me is the most suspenseful, frightening, memorable and best-written novel about backwoods America since Deliverance. It's the book Castle Freeman was born to write.
The characters seem as real and human as my next door neighbors. I sat down and read Go with Me straight through. Then I went and got a beer, came back and read it again. Now that's a novel." — Howard Frank Mosher

"With razor wit and taut impeccable plotting, Castle Freeman has created a vivid page-turning tale, a modern fable of classic proportions, at turns extremely funny and noirishly frightening, often within the same scene. GO WITH ME has the pacing of Elmore Leonard but with a cast of characters as timeless and fully-fleshed as any group of pilgrims out of Chaucer. Freeman has given us a rollicking read brimful of human hearts, their fumbles and foibles brilliantly etched as their trials, ordeals and wisdom become our own." — Jeffrey Lent

"In this compact little gem of a novel two unlikely heroes help a stubborn woman track down a villainous bully. It's a tale of love and justice and it's beautifully constructed, with lightness and with expertise, out of north country conversations so quietly funny that every page brings a smile." — Reeve Lindbergh

"Go With Me is something entirely new, a New England gothic tale with a profound emotional and philosophical depth. A great story, a lot of fun, a tale that could have been written by a collaboration of David Mamet and Samuel Beckett, that is if they had had a case of beer in Vermont and were interested in telling some tall tales and having a hell of a good time." — Craig Nova
or
Not Currently Available for Direct Purchase